reposted from Rose City Antifa
In 2017, Eugene Antifa revealed that Bethany Sherman, owner of cannabis testing lab OG Analytical in Eugene, OR, was a Nazi with a large online presence of fascist and racist Twitter posts. Sherman was forced to close her business as a result. Now, Sherman, with the help of white supremacist attorney William Daniel Johnson, is attempting to abuse the court system in order to subpoena Eugene Antifa's former web host to reveal personal information about members of Eugene Antifa and visitors to their website. There is no legal basis for these subpoenas, according to the Civil Liberties Defense Center (CLDC), and the entire case is nothing more than an attempt to target anti-fascist activists and intimidate them in order to prevent the truth about these Nazis in our community from being known.
Bethany Sherman, the "Weed Nazi"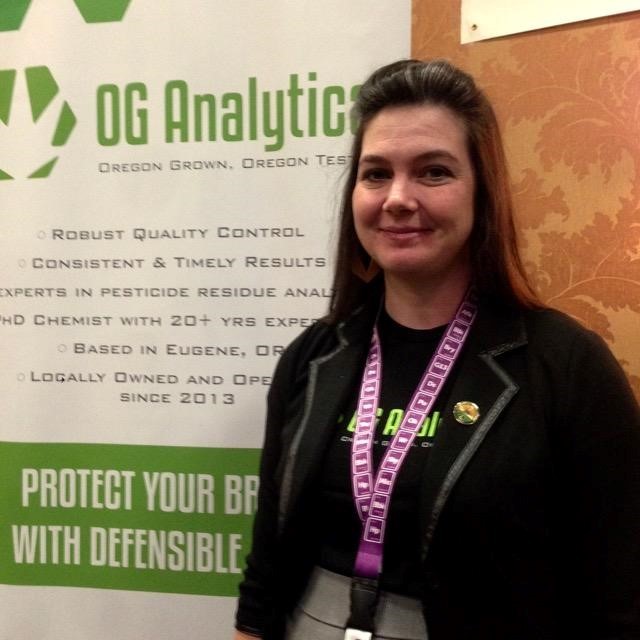 Bethany Sherman, here representing her former company, OG Analytical.
Last year, Rose City Antifa, along with Eugene Antifa and the Pacific Northwest Anti-Fascist Workers Collective, gained access to the logs of a Discord server used by a variety of Pacific Northwest fascists and white supremacists, given the tongue-in-cheek name, the Cascadian Coffee Company (CCC). Discord is a chat app, originally developed for online gaming, but often used by the far-right and white supremacists groups to organize their groups and events. These logs contain thousands of messages detailing activities, organizing, and interactions of one particular bunch in the Oregon and Washington region. From these messages, anti-fascists were able to identify a number of active white supremacists in the region, including David Woods, Justin Marbury, Ian Lawton, Austin Wilkison, Andrew Oswalt and Wade Mendisabal, as well as write a number of articles detailing the activities of locally-active fascist organizations, such as American Front, The Daily Stormer Book Clubs, True Cascadia, and Atomwaffen Division. Eugene Antifa was also able to identify Discord user Blackhat16 as Matthew Lee Combs. And from that information, they were able to determine that he used the twitter account "Black Hat 16" or @basedMLC, and that his partner, Bethany Sherman, was the person behind the fascist Twitter account titled Mrs. Blackhat, or @14th_word.
Bethany Sherman never denied the identification, instead releasing a statement claiming that she in fact was being attacked for having "white pride." Meanwhile, the media latched onto the story– the fact that the owner of a well-regarded cannabis business was outed as a fascist became big news.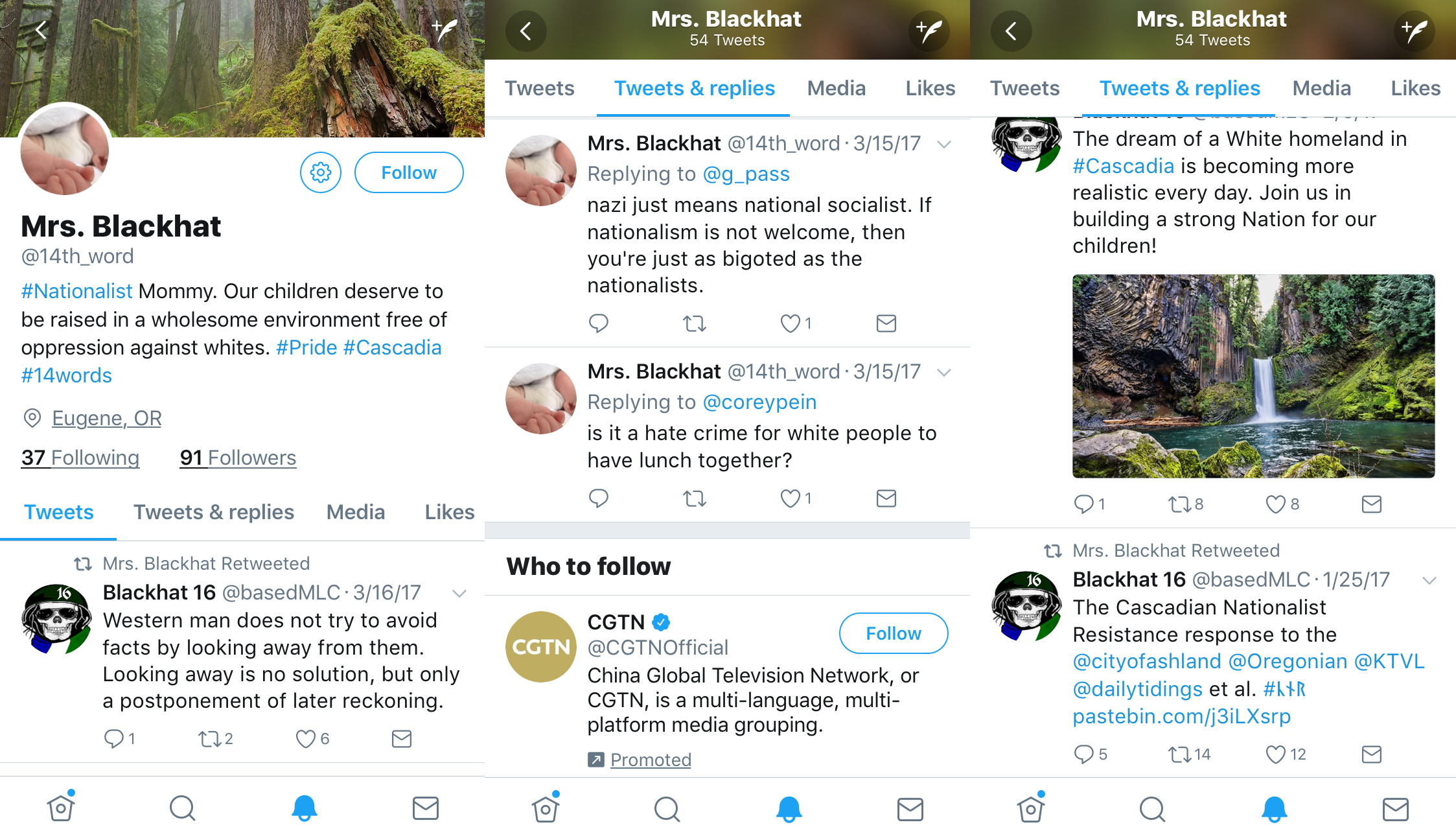 A selection of Bethany Sherman's tweets, promoting both Matthew Lee Combs tweets and a Nazi agenda.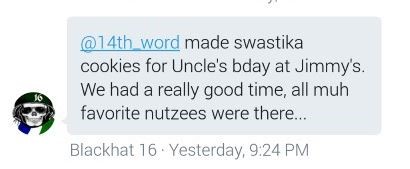 Matthew Lee Combs brags about Bethany Sherman making swastika cookies for Hitler's birthday at Jimmy Marr's house.


In this message from the CCC Discord, Justin Marbury (aka wehrmacht) is disappointed that Combs' (aka blackhat 16) partner Bethany can't make a fascist meet-up.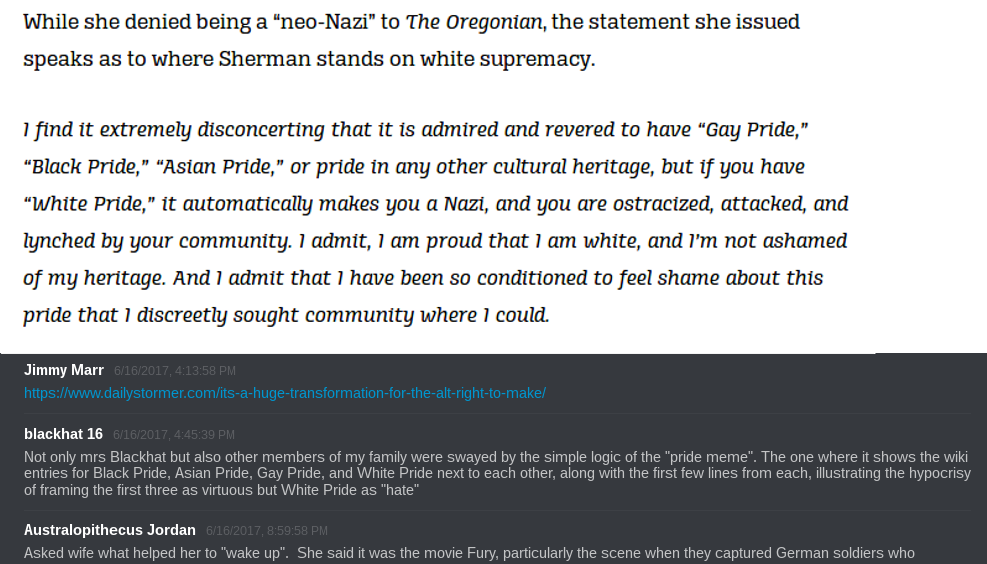 In this image, Sherman's statement to the media affirming her belief in "white pride" is juxtaposed with a message from the CCC Discord, where Combs mentions that a meme about "Black Pride, Asian Pride, and Gay Pride" almost identical to Sherman's public statement is what made his partner first become a white supremacist. (Sherman's statement is quoted from The Eugene Weekly.)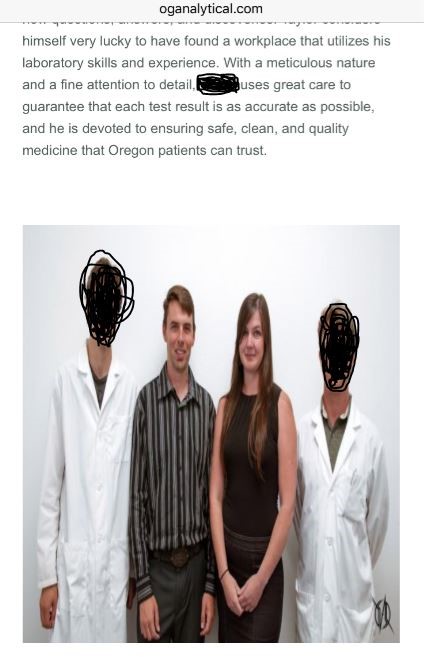 A photo of Combs and Sherman from the OG Analytical website.
Recently, Sherman was sued by 12 former employees of OG Analytical, who claim that she failed to pay them after firing them, as well as refuses to give them access to their retirement accounts.
But as if this much negative publicity and community shame was not enough for Sherman, she decided to lash out at the anti-fascists who reported the truth about her, with the help of long-time white supremacist lawyer, William Daniel Johnson.
William Daniel Johnson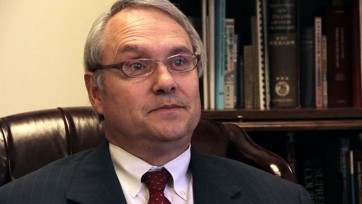 William Daniel Johnson
William Daniel Johnson has been a fixture of white supremacy in American politics since at least 1985, when he was campaigning for a constitutional amendment called the "Pace Amendment," which would revoke the citizenship of every nonwhite person in the United States. His political party was originally called the American Third Position Party, but changed its name to the American Freedom Party (AFP) in 2013. For awhile, there were chapters of the AFP in many states, but it has seemed to have faded away in recent years.
Rose City Antifa is well-acquainted with the former American Freedom Party in Oregon. In a series of articles, Rose City Antifa documented local Oregon members of the racist party led by Johnson, and established that these individuals were out spoken white supremacists, if not outright Nazis.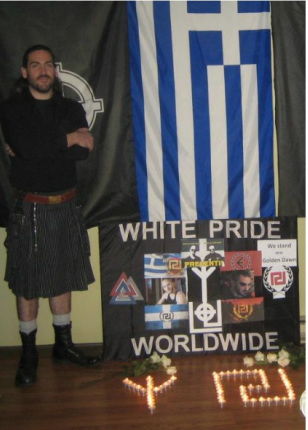 AFP member Brent Joly, pictured at a memorial event for Greek fascist party Golden Dawn, hosted by the AFP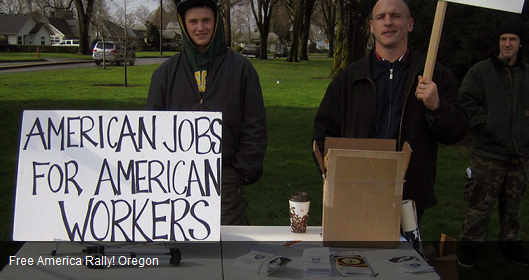 Kyle Brewster (right) at an AFP event. Brewster was one of the three members of East Side White Pride and White Aryan Resistance who murdered Ethiopian immigrant Mulugeta Seraw in Portland on November 13, 1988. Seraw was beaten with a baseball bat and left in a pool of his own blood. He died early the next morning. According to another one of the murderers, Ken "Death" Mieske (now deceased), they murdered Seraw "because of his race".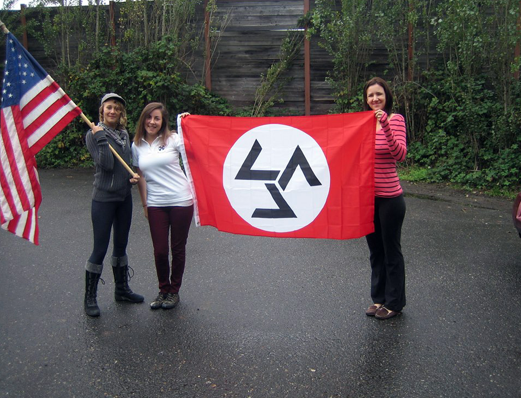 _AFP members Kelly Conrady, Rebecca Hughes, and Laura Cole, posing with the flag of the violent South African neo-Nazi group, Afrikaner Weerstandsbeweging._
Johnson has attempted to get involved in more mainstream politics without success. In September 2007, he held a fundraiser for Ron Paul's presidential campaign, and in June 2008, he ran a failed campaign to become a judge in the Los Angeles Superior Court. In 2016, he was "mistakenly" selected as a California delegate for Trump, and only resigned when media drew attention to his white supremacist views.
Johnson has also noticed the work of anti-fascists disrupting his AFP activities. After Rose City Antifa published articles about AFP members in Oregon, Johnson made a ham-handed attempt to "doxx" Rose City Antifa, recklessly assuming some random Flickr account had a relation to RCA because a photo ID had the same digits as RCA's public phone line.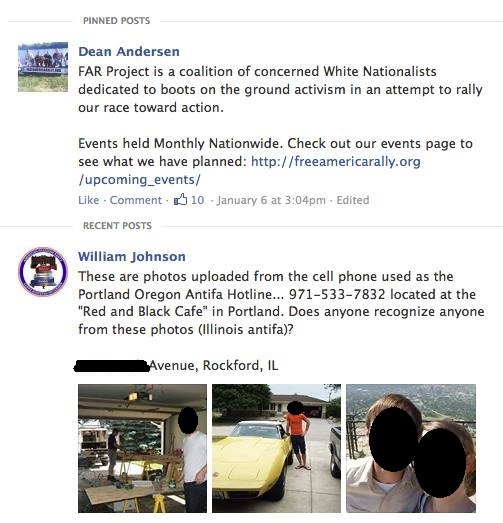 Johnson attempts to "doxx" anti-fascists with some random person's Flickr account.
Johnson is now helping Bethany Sherman to target anti-fascists yet again, by filing a frivolous lawsuit alleging that in reporting the truth, Eugene Antifa was somehow defaming Sherman. However, the real purpose of the lawsuit is obvious. In not going after the many media outlets that also reported the fact that Sherman is a Nazi (and who have money to pay for damages), and in only suing the anti-fascists, Sherman and Johnson make their real goal clear: to leverage the power of court subpoenas to discover the identity of the anonymous activists.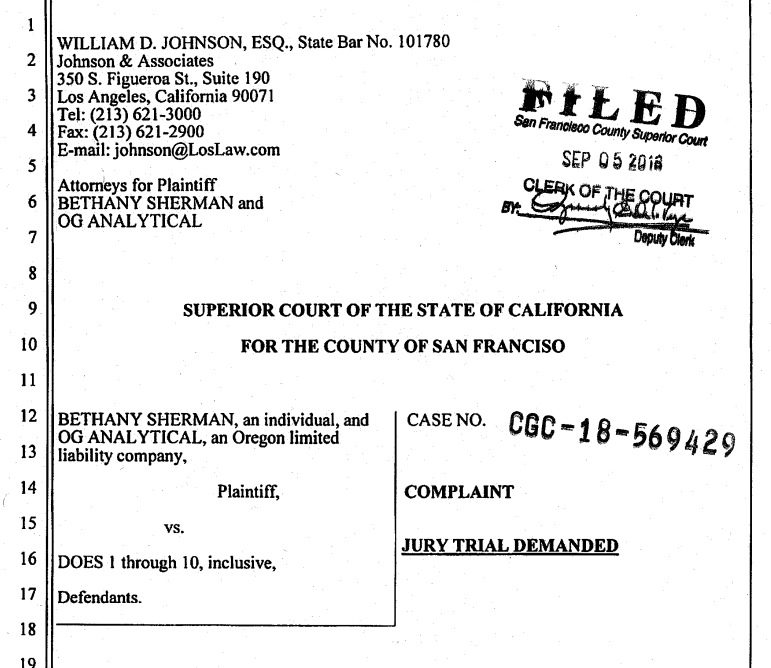 The cover sheet of the frivilous law suit filed by white-supremacist lawyer Johnson on behalf of "Weed-Nazi" Bethany Sherman.
Johnson, on behalf of Sherman, has subpoenaed Eugene Antifa's former web host, Weebly, demanding access to any personal information related to the account. This is an obvious attempt to punish anti-fascists for telling the truth, and to intimidate them by having access to their personal information and locations.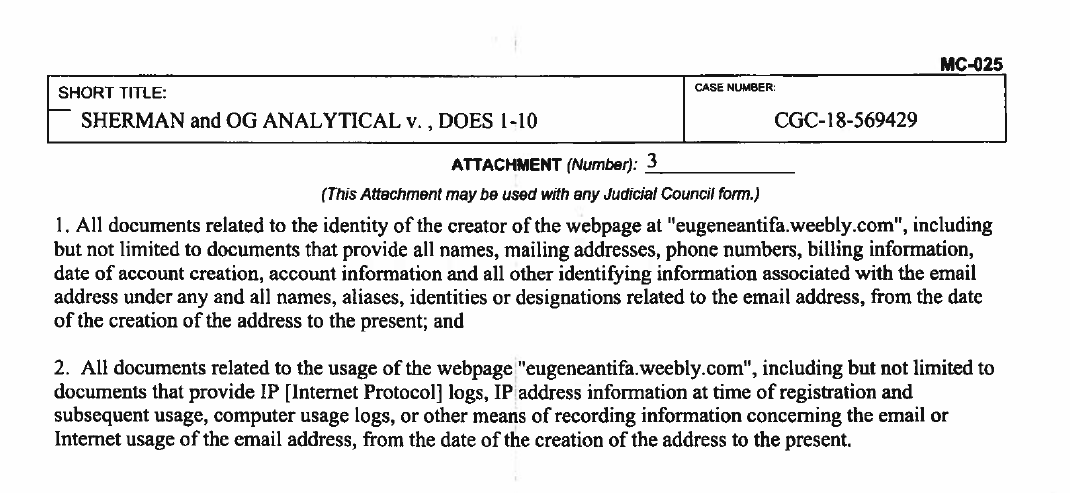 Part of the subpoena that was issued to Weebly, attempting to get information about the administrators of the former Eugene Antifa website.
In the memorandium to quash the subpoena filed by Johnson and Sherman, the CLDC lawyer notes that under the legal precedent of the United States, for a statement to be considered defamatory, it "must contain a provable falsehood." In other words, for Sherman to have any sort of case at all, she must prove that she is not a white supremacist, as claimed in the article. In her lawsuit, she has not made any attempt to do this. In fact, in her public statments she has verified that she does indeed exhibit "white pride," and has never denied the fascist and racist statements identified as made by her, are in fact her statements. Therefore, argues the CLDC, her lawsuit is entirely without merit.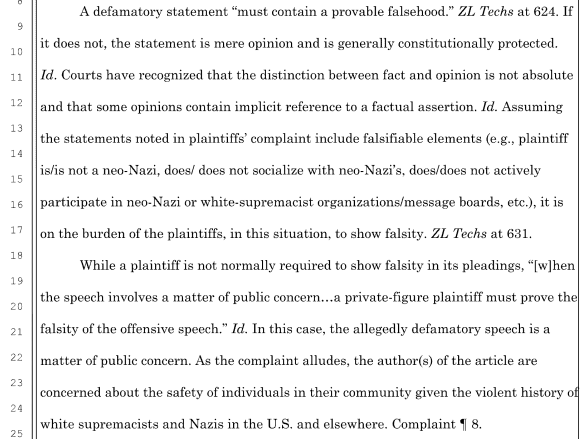 Furthermore, the memo goes on to note, previous courts have acknowledged the fact that "'there is reason to believe that [at least some] defamation plaintiffs bring suit merely to unmask the identities of anonymous critics,' with 'the primary goal being to silence John Doe and others like him.'" White supremacists, neo-Nazis, and other groups with vocal critics in society will often attempt to abuse the court system in order to persecute those critics. Writes the CLDC: "given the bare and paltry nature of the complaint, the venue chosen by plaintiff (it is clear, on the face of the complaint, that venue is proper in Oregon, not California), and the history of white-supremacists identifying and then violently attacking those who speak out against Nazism/white-supremacy, it appears that this complaint was only filed for the purpose of harassing and intimidating Doe(s)."
The history of white-supremacists attacking anti-fascist and anti-racist activists, often with the help of the police and courts, is too broad to recount in full. But we don't even need to go any further afield than the bounds of this case, to prove that. The lawyer who filed this lawsuit, William Daniel Johnson, has already been documented recklessly exposing random people's personal information online, in the effort to identify and intimidate anti-fascists, as we noted in 2014, and above.
We welcome the community to inform the California State Bar about Johnson's actions. Here is his license listing from the CA State Bar website:
William Daniel Johnson #101780
License Status: Active
Address: Johnson & Associates, 350 S Figueroa St Ste 190, Los Angeles, CA 90071
County: Los Angeles County
Phone Number: (213) 621-3000
Fax Number: (213) 621-2900
Email: [email protected]
Law School: Columbia Univ SOL; New York NY
In addition, we hope that Weebly takes note of this blatant attempt at abusing the subpoena system to harass their customers, and properly investigates the claims that are made by white supremacists before blindly giving in to their requests. It is vital that web hosts such as Weebly do not fall victim to the lies perpetrated by white supremacists such as Johnson and Sherman, and become unwitting aids to their violence. It is their responsibility to honor their commitments to safeguard the privacy of their customers, so that important activism can be done safely.
Anti-fascists will continue to research white supremacists and alert the public about their activities, regardless of any attempts at intimidation. If you have information about white supremacist activity in your area, contact Rose City Antifa at [email protected].