reposted from Eugene Antifa
Patriot Front is a Texas-based American fascist, neo-Nazi group that was formed shortly after the Unite the Right rally in August 2017. The group, led by Thomas Rousseau, split from Vanguard America shortly after James Fields drove his car through protesters killing Heather Heyer. Thanks to the work of anti-fascists, we have a large collection of private messages from this group. One of the most active networks within Patriot Front is located in Northwest Washington. In this article, we will expose one of the most violent members of Washington's Patriot Front network, Jacob Landis Prior (birth date: 7/28/94), and his girlfriend, Mackenzie Clark, and show their affiliations with the Crew 38 neo-Nazis of Tac Town Tattoo.
In the Fall of 2017, Gig Harbor, Washington, saw several instances of Patriot Front flyers being posted in their community. Washington Patriot Front members "Goodest_Boy WA" and "Norman" went on several flyering missions and frequently bragged about their antics in the Discord server Front and Center. They would post pictures of missions in the chat rooms so they could be tweeted by Patriot Front leader Thomas Rousseau. These missions garnered media attention and stirred controversy in Gig Harbor. Liberal groups convened in an attempt to handle the situation.
Here is an example from November 16, 2017, when user "Goodest_Boy WA" posted pictures from one of his flyering missions. He photographs the flyers with text reading, "Not Stolen, Conquered" and "Resurrection Insurrection" on posts and news boxes throughout the city. "Goodest_Boy WA" even shows himself applying the flyers to various surfaces. This news article documents several of the discovered flyers.
User "Jake WA" (aka "The_Human_Shoah" #3006) showed up in the same Discord server on December 7th, 2017. Quickly, Jake hoped to make a name for himself within the group. Jake begins flyering and making banners with "Goodest_Boy WA".
Fortunately, Jake took the liberty of doxxing himself when he posted this photo in a chatroom: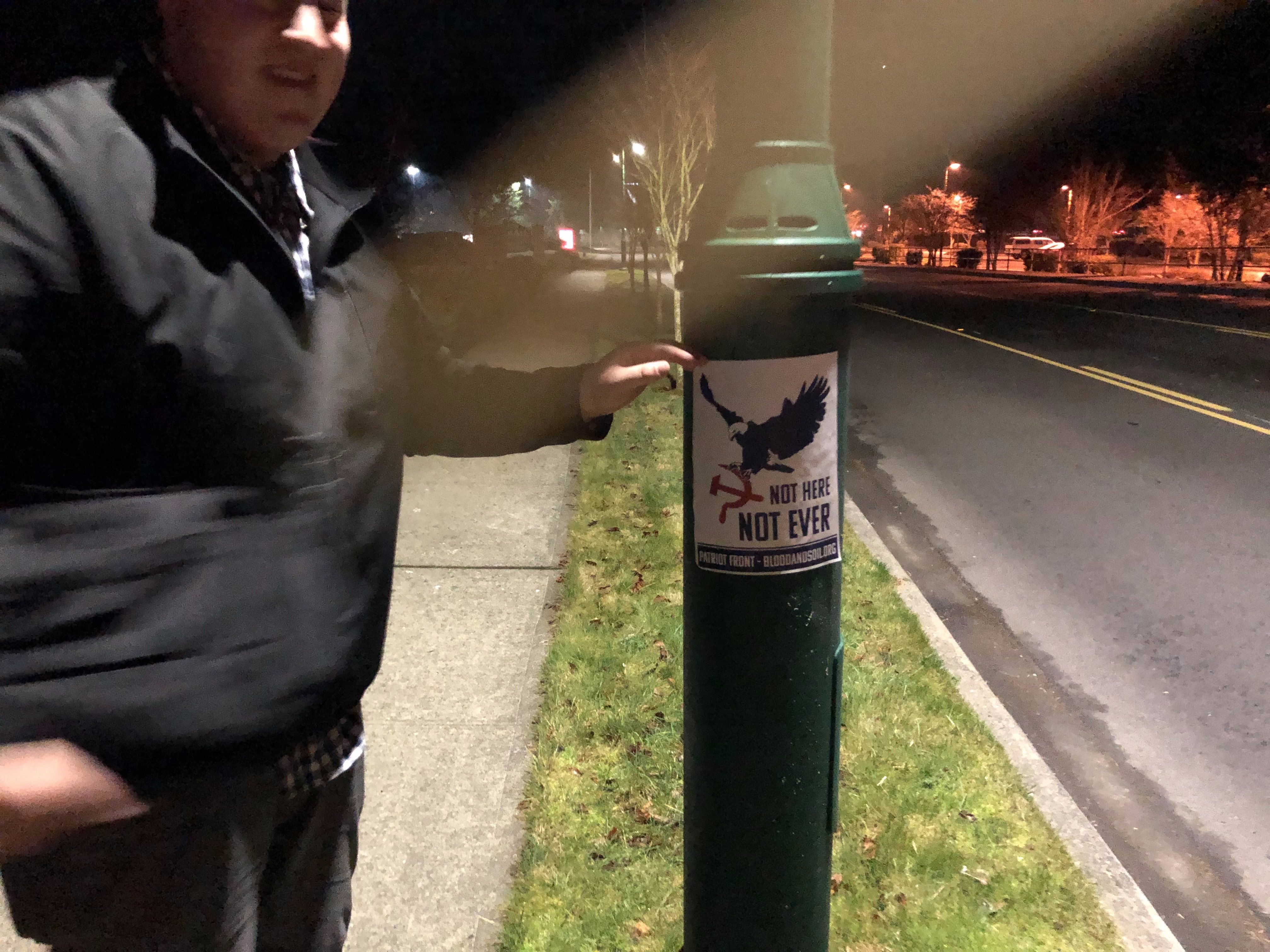 Note: Jake is wearing the same shirt in this photo with Kenzie as he was while hanging Patriot Front flyers in Gig Harbor.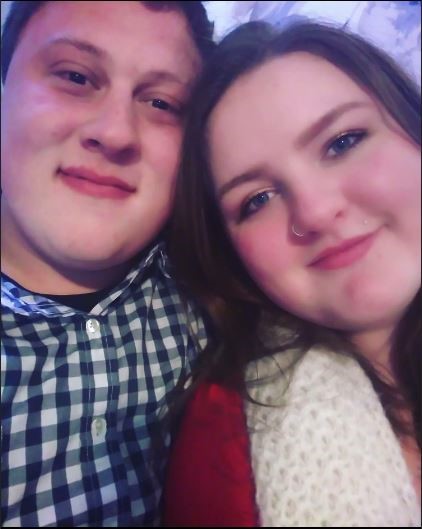 Jake expresses jealousy of Patriot Front members who receive press coverage for their flyering, lamenting, "it's what I'm striving for." He was vocal about spending much of his free time flyering, and speaks of how he, "feels a need" and "must flyer." Eventually, "Jake WA" follows other members' lead by bragging about and posting photos of his own flyering handiwork.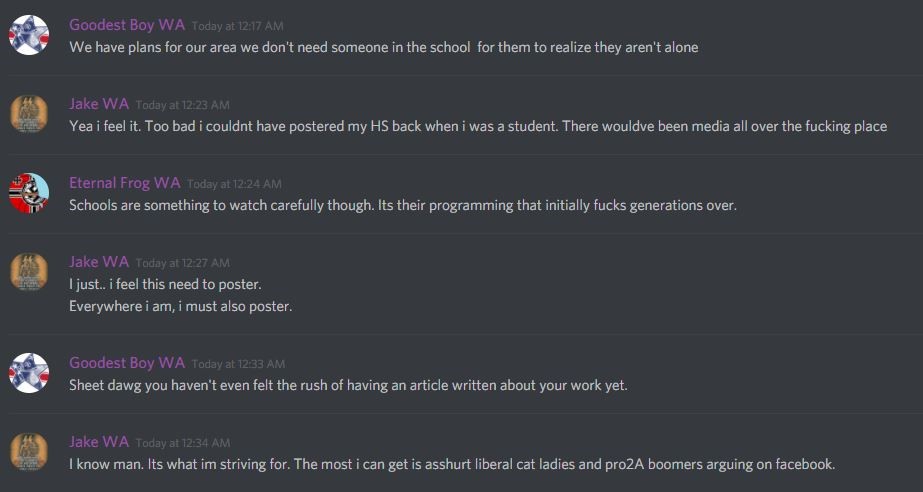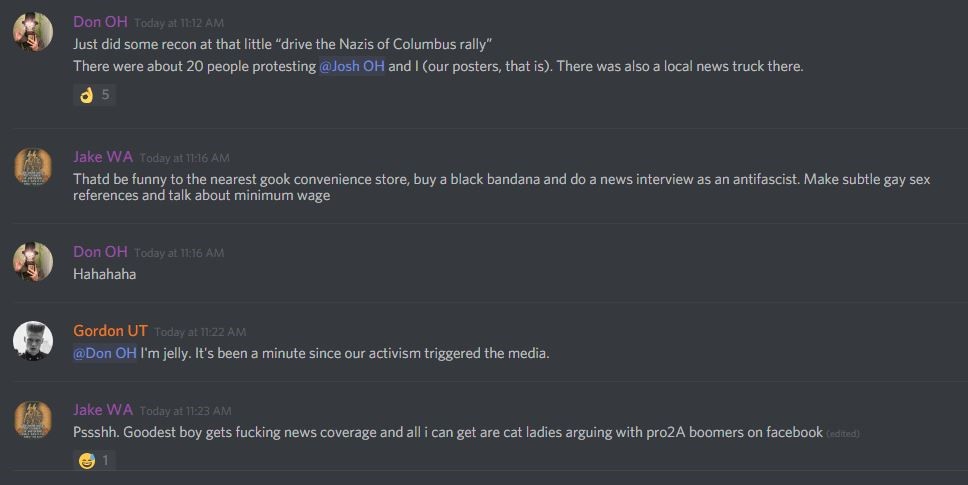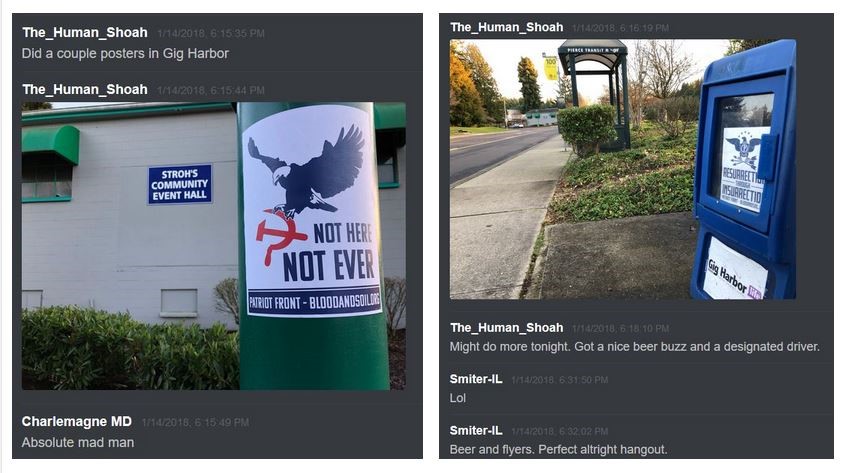 Jake finally got some media attention for his flyering of Tacoma, Washington. On the early morning of March 5, 2018, Jake posted these photos to the Patriot Front Discord server:

That evening the News Tribune posted an article documenting the Patriot Front flyers.
This wouldn't be the only time Tacoma was plastered with Patriot Front flyers.

To view "Mr. Apex WA" Discord messages, click here: https://discordleaks.unicornriot.ninja/discord/user/1819
In addition to flyering, Jake likes to fly banners, make racist drawings,and complain about the non-White people in his town. He posts these antics to impress his Discord friends as well.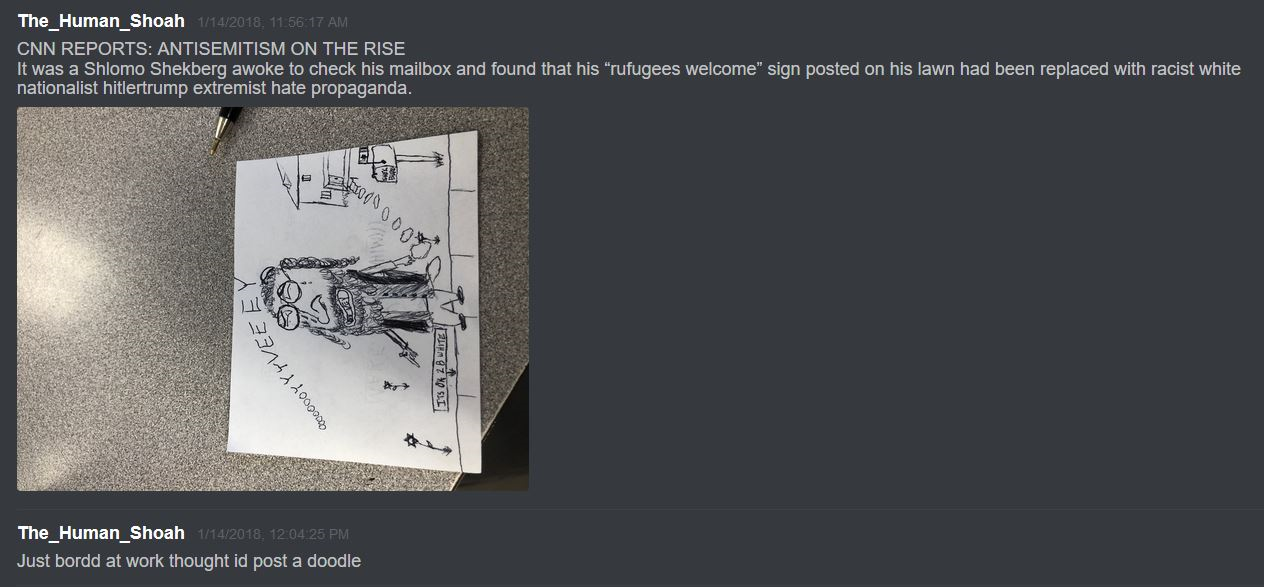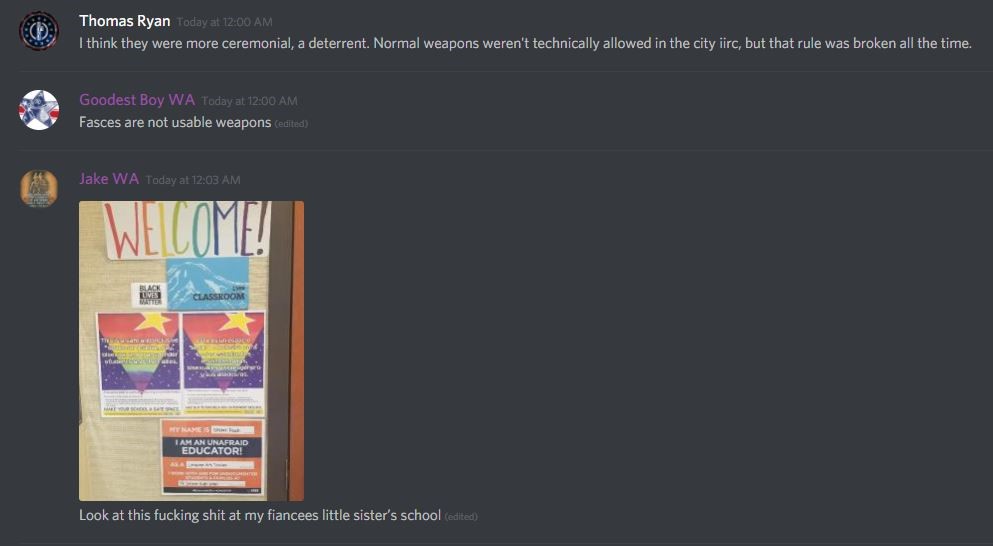 Online, Jake makes no attempt to conceal his hateful priorities. Below are two Facebook accounts that are linked to "Jake WA." The bio proclaims his affinity for, "long walks on the beach, good mojitos, and racial preservation." On Facebook, he openly posts photos of himself sporting Crew 38 attire; Crew 38 is a supporter group of the hate group "Hammerskins."
Jake's social media can be viewed here:
Jacob Huey/Cletus Sissle Facebook http://archive.is/GUti6
Jake Prior Facebook http://archive.is/19l3V
In February 2018, Seattle area anti-fascists reported on a neo-Nazi owned and operated tattoo shop in Tacoma, WA. Read that report here. This report started a flood of negative reviews on the Tac Town Tattoo Facebook page as well as positive reviews by known neo-Nazis and their sympathizers. On May 5, 2018, Jake posted a review of Tac Town Tattoo stating that they had fixed one of his tattoos. It appears this meeting fostered his alliance with the neo-Nazi skinhead group Pacific Northwest Hammerskins.

On June 16, 2018, a group calling itself Tacoma Against Nazis picked up the fight against Tac Town Tattoo. They had a demonstration outside the tattoo shop on June 22nd and on July 10, 2018, they funded a billboard in Tacoma proclaiming "There are NAZIS in our neighborhood." This protest and billboard spurred even more negative attention on the tattoo shop. Jake posts on 4chan that the attention has hurt their business and that something must be done to help the Nazi tattooists.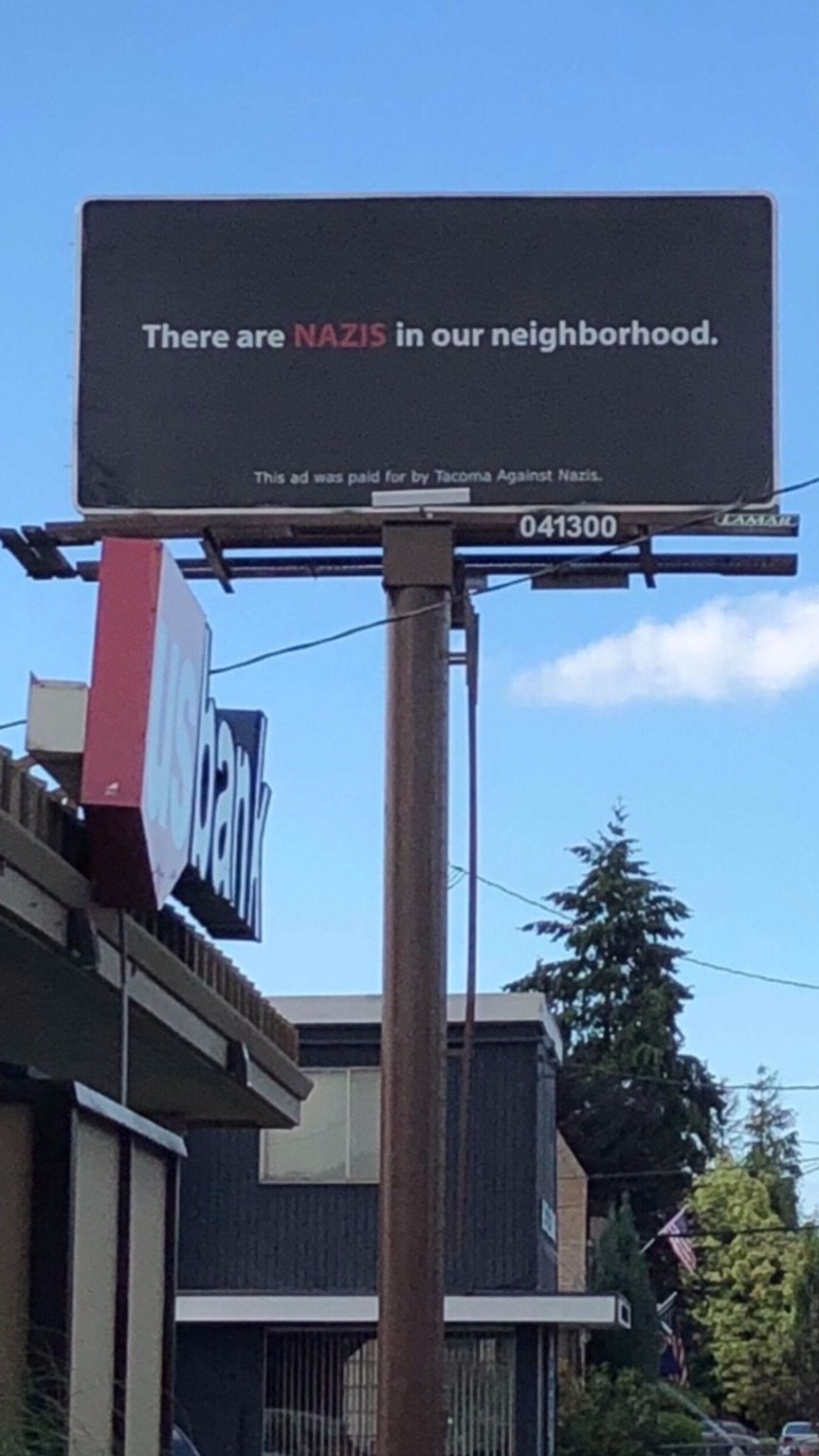 The owner and employees of Tac Town Tattoo are well known neo-Nazis that have been tracked for years by antifascists. They have deep ties with American Front, including Lane County Jail resident Jake Laskey. Recently, these neo-Nazis have been fronting for Crew 38. Jacob Prior and his girlfriend Kenzie Clark have recently begun to socialize with this circle of neo-Nazis, and as a result, their white supremacist ideology has hardened as they sink deeper into the pit of 1.0 White Nationalist organizing.
Meet the Tac Town Tattoo neo-Nazis:
Mackenzie Clark was born on May 20, 1993, and has been Jake's girlfriend for a couple years now.  A quick glance of her Facebook profile, including her friends list, reveals Kenzie's own affiliations with neo-Nazi skinheads including Jason De Simas, Ryan De Ann De Simas, Matthias Hammerzeit, and Matty O'Hammer. Kenzie seems to have been "red pilled" by Jake as a thorough review of her Facebook profile will show that she wasn't always as racist, homophobic, nationalistic, or embracing of the "white power" motifs. In fact, not too long ago, Kenzie was outspoken on her Facebook page about equality and gay rights. Unfortunately, she hooked up with a white supremacist and she has quickly been brainwashed.
Kenzie cannot claim innocence, however, as she has accompanied Patriot Front members on outings and served as their photographer and videographer during banner drops and other activities. Kenzie has quickly integrated herself, even if by the leash her boyfriend Jake holds, into white supremacist circles. Her rhetoric on her Facebook page leans more to Alt Right wording, and she seems to approve, and even try out, fascist and neo-Nazi appearances.
Kenzie is the manager of the Sprint store in Gig Harbor. Feel free to call the store at (253) 235-2980 and let the workers know their manager is a bigot. Or, visit the store at 4935 Point Fosdick Dr. NW and politely inform the workers and customers that the manager of the store is a neo-Nazi.

To view "Eternal Frog WA" Discord messages, click here: https://discordleaks.unicornriot.ninja/discord/user/1908
Kenzie's social media can be viewed here:
Facebook http://archive.is/co6GU
Facebook friends list http://archive.is/movVR