reposted from Rose City Antifa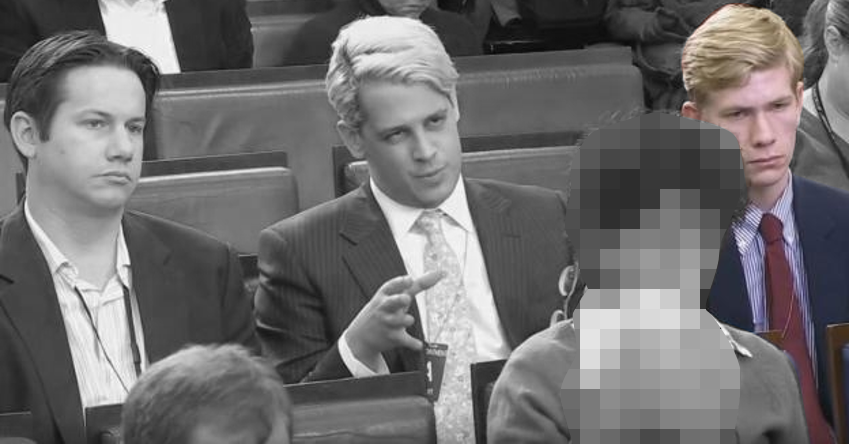 On Friday, May 31st, the PSU College Republicans hosted an on-campus event titled "American Nature," featuring alt-right troll Mike Mahoney aka "Mike Ma" as the evening's invited speaker. Mike Mahoney, a racist anti-Semite who has a history of glorifying violence and promoting violent fascist groups, is one more fascist posing as simply a "far-right media personality" which College Republican groups have brought on to college campuses under the guise of "free speech."
Anti-fascist activists on the scene– already familiar with "Mike Ma's" ongoing history of racism and fascist propaganda– coordinated to ensure that Mahoney received a high velocity milk-shake.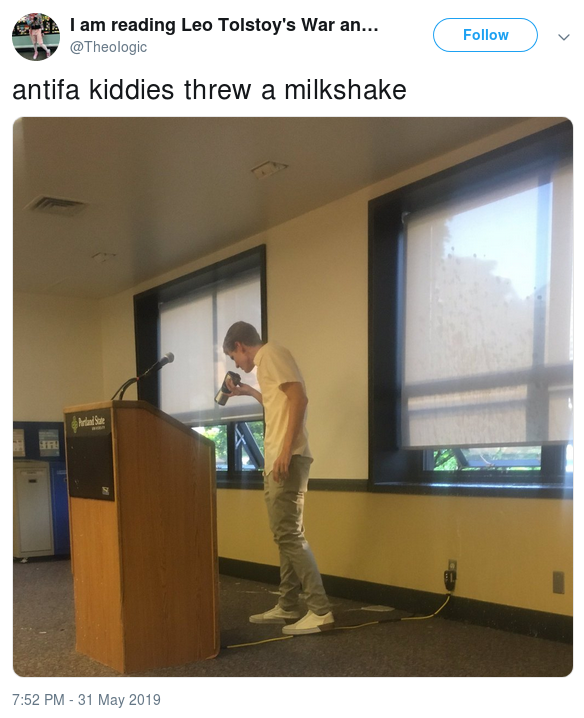 A twitter user in attendance at the event posts a photograph of Mahoney sniffing at a cup which moments before had contained the milkshake now spilled over his shirt.
Mahoney is a former employee of Breitbart News and was also brought on board by Tim "Baked Alaska" Gionet to work directly for neo-Nazi propagandist and pedophilia-apologist Milo Yiannopoulos, to accompany him on his college tour, and to write for his website "Dangerous". An article exposing Yiannopoulos' close ties to neo-Nazis and his efforts to propagate their ideologies singled Mahoney out as someone who had required extra effort to monitor due to his exemplary racism:
"Mike Mahoney, a then–20-year-old from North Carolina, had to be monitored because of his propensity for racism and anti-Semitism on social media… 'Let me know if there's anything specific that's really bad eg any Jew stuff,' Yiannopoulos wrote of Mahoney in an email to another member of his staff. 'His entire Twitter persona will have to change dramatically once he gets the job.'"
Mahoney has been suspended from twitter more than once for the kinds of harassment campaigns which are endemic to the alt-right. One recent account, "golfrumors," cultivated an eco-fascist brand utilizing the aesthetic trappings of the wannabe-insurgent paramilitary neo-Nazi organization known as "The Base".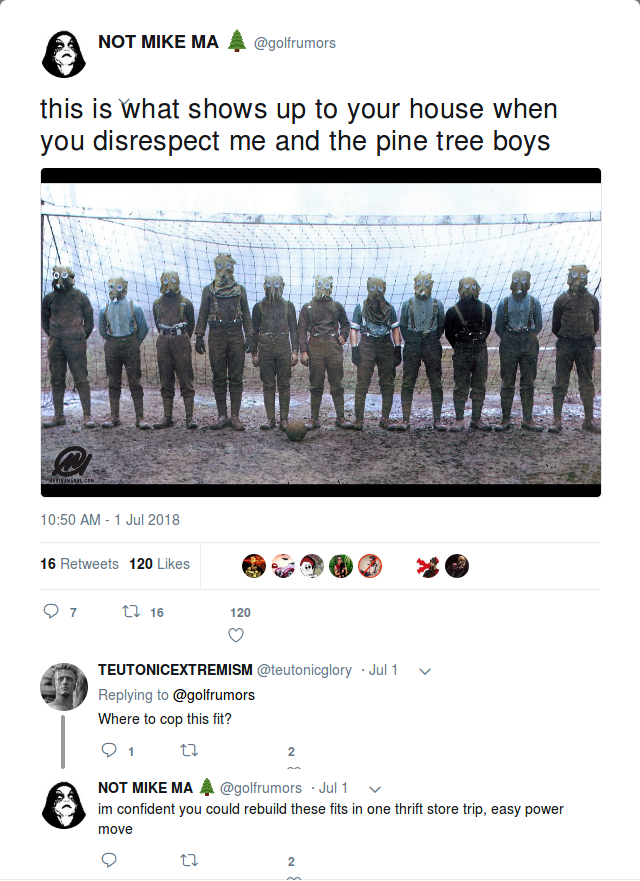 Mahoney shitposts about fascist squad violence. His arch tone and use of the "pine tree" emoji are familiar traits among online "eco gang" adherents, including members of The Base.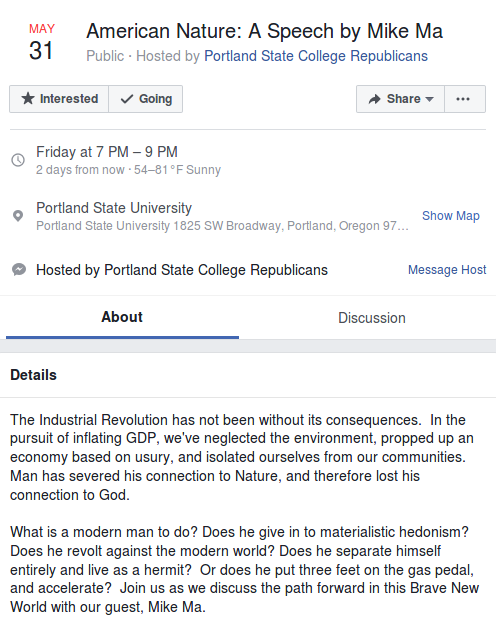 The event description text for Mahoney's speech hosted by the PSU College Republicans also contains multiple fascist dog-whistles. "Revolt against the modern world" is the title of a book by esoteric fascist writer Julius Evola which critiques the modernity of 1930s Italy through the lens of the imaginary "traditionalist" nostalgia of fascism. "Three feet on the gas pedal and accelerate" refers to a slogan used as a chapter title in Mahoney's recently published book Harassment Architecture, but created earlier in deleted-and-poorly-cached tweets. Searches for the phrase nonetheless turn up results almost exclusively comprised of propaganda materials for Atomwaffen Division and The Base.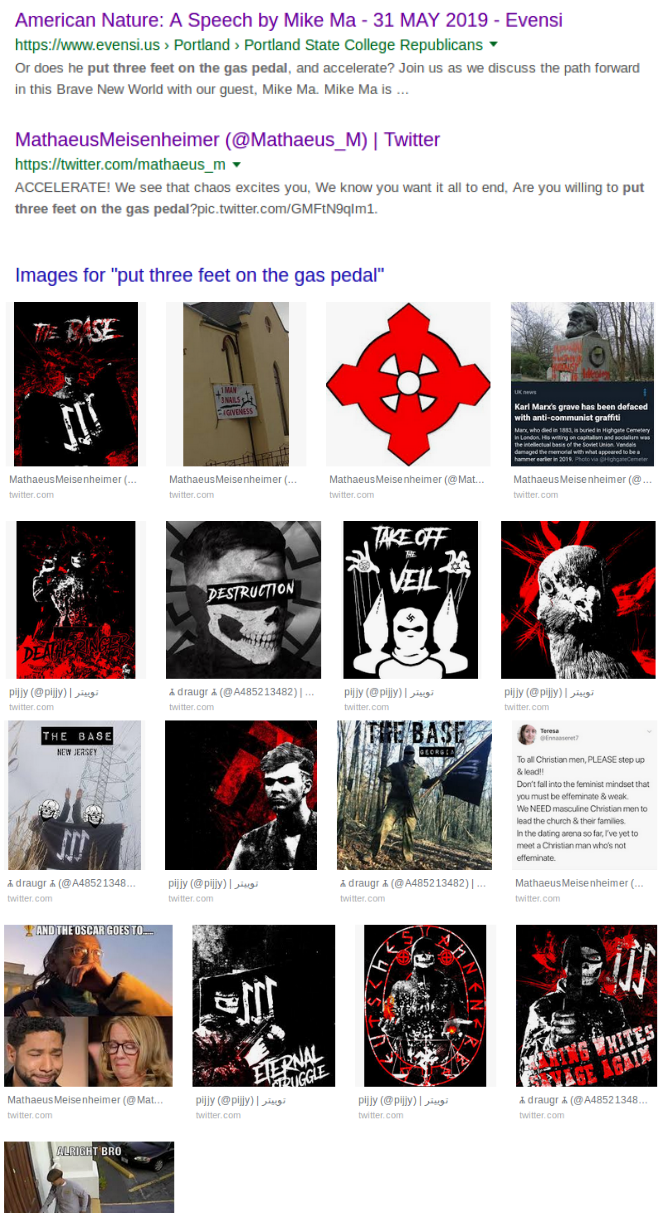 Search results for Mahoney's odd turn of phrase reveals further affinity with violent fascists.
Mahoney's Harassment Architecture is promoted on the Telegram messaging app in fascist channels featuring Atomwaffen Division graphics and names like "TERRORWAVE REFINED" and "Hans's Right Wing Terror Center." The excerpts of the book's text shared on these neo-Nazi channels feature content in which Mahoney impishly reiterates calls for the kind of small-cell or lone-wolf acts of racialized violence and terror encouraged by Atomwaffen's primary text, James Mason's Siege.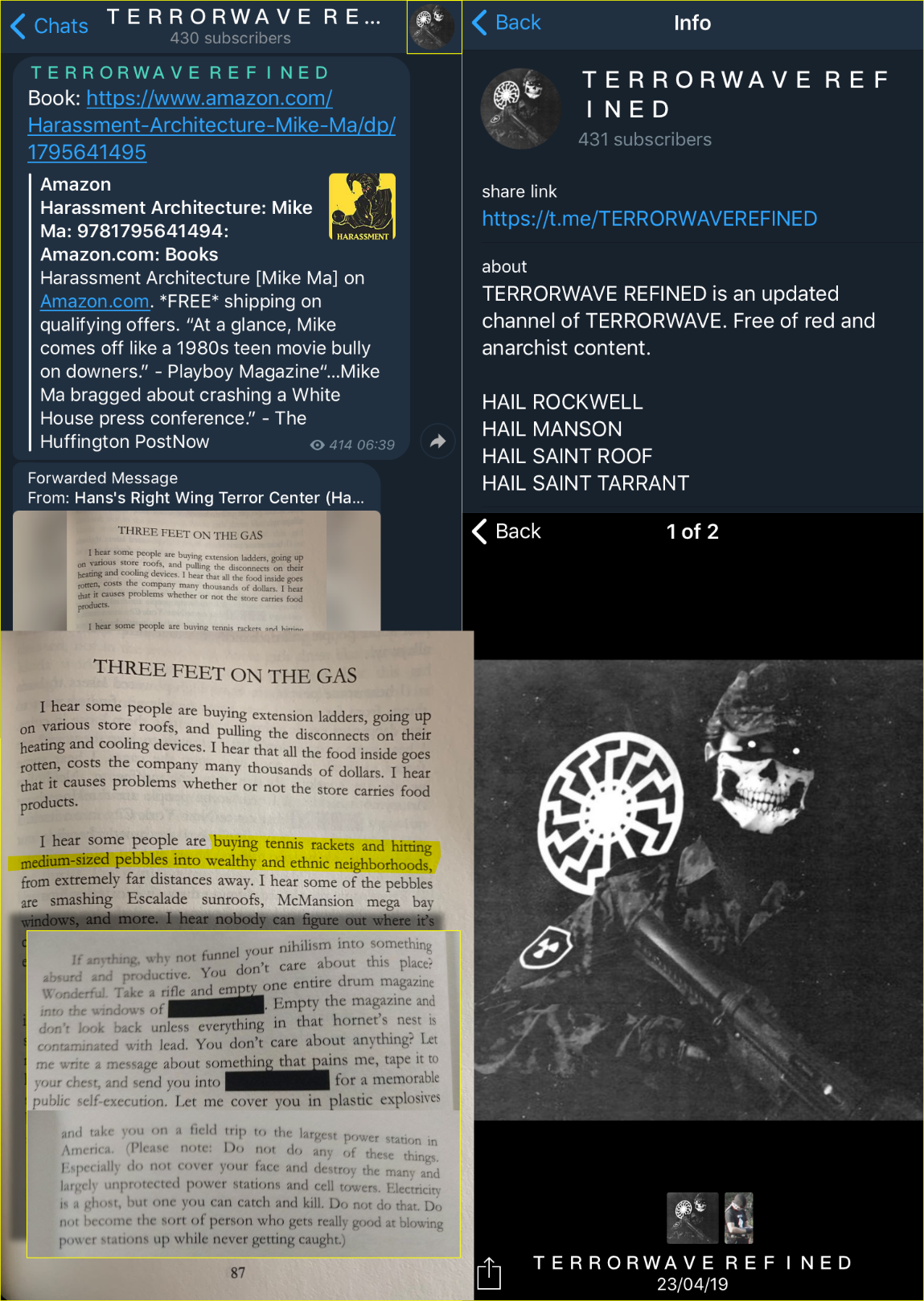 Neo-Nazis promote Mahoney's book on Atomwaffen-themed channels using the Telegram messaging app.
Additional receipts from Mike Mahoney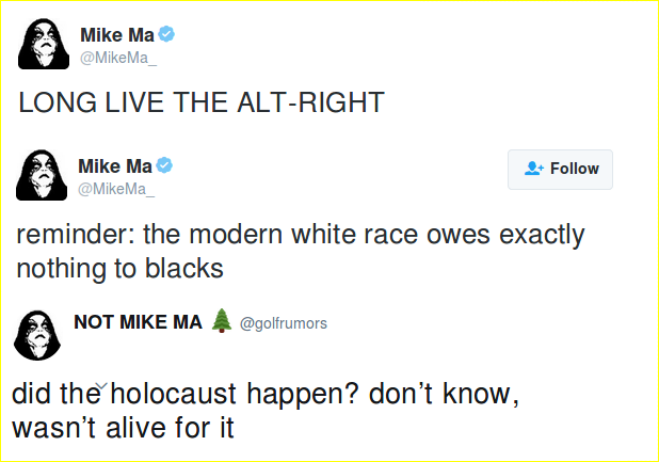 Mahoney's twitter posts reveal him to be a racist alt-right holocaust denier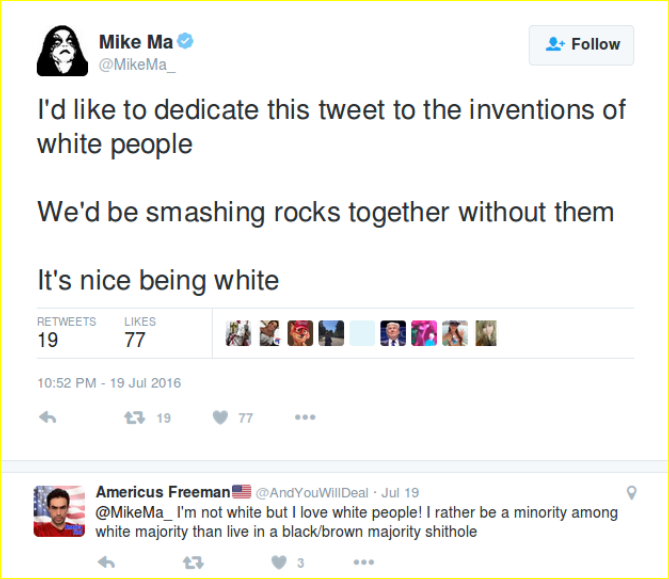 Mahoney and one of his twitter followers engage in the discourse of White Pride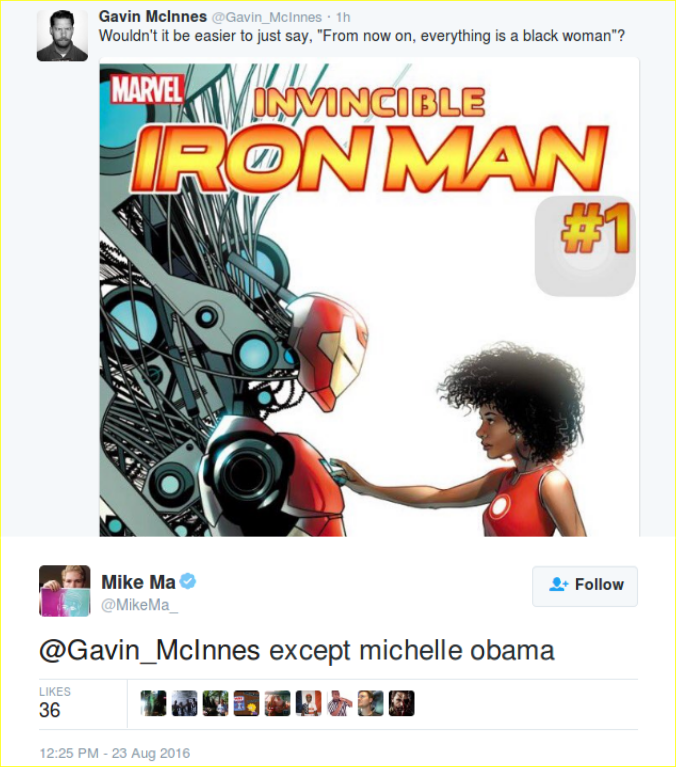 In an effort to impress Proud Boys hate group founder Gavin McInnes, Mahoney trots out a racist misogynoir trope, ubiquitous in right wing circles, by claiming that Michelle Obama is not a woman.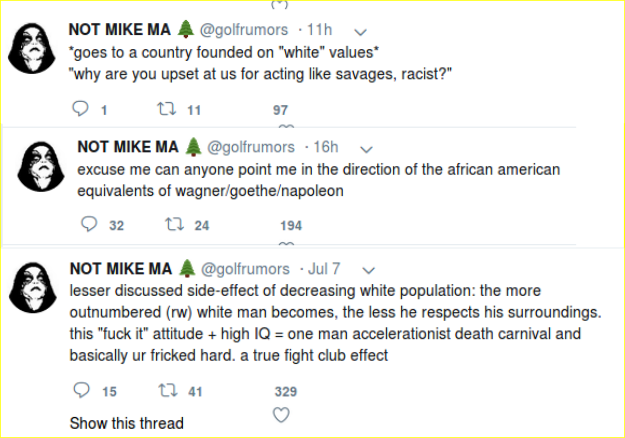 A small sampling of Mahoney's many racist tweets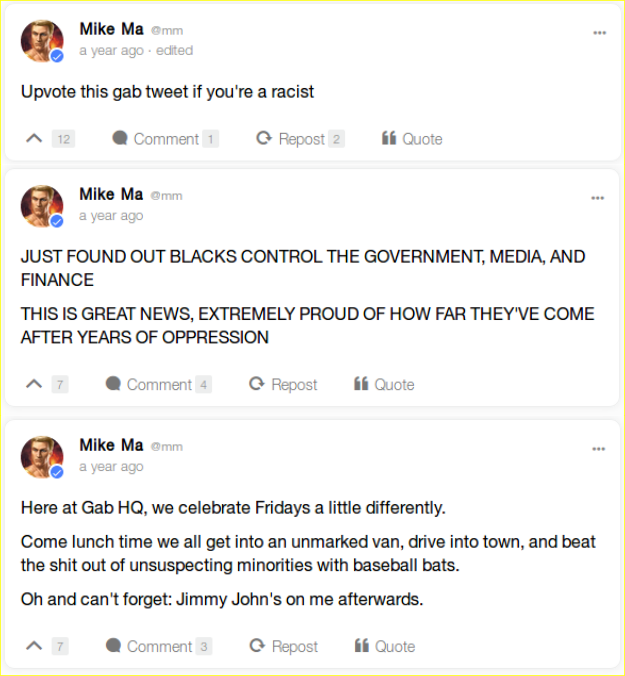 Some of Mike Mahoney's racist gab posts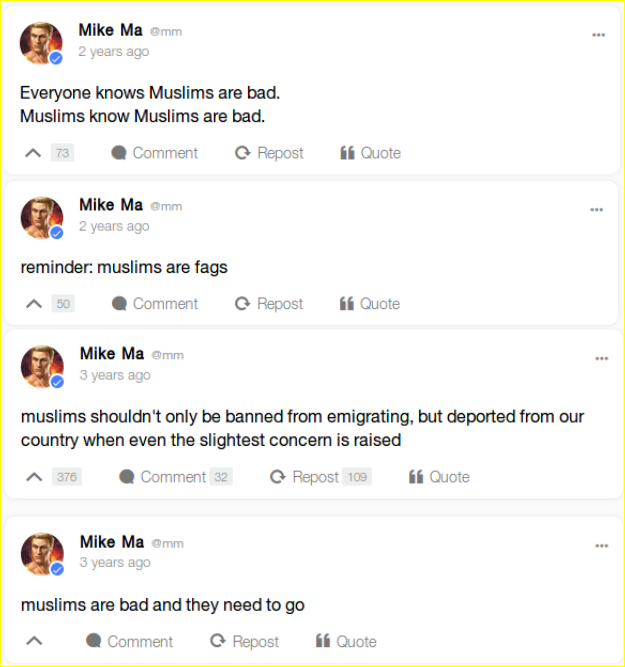 Some of the Islamophobic hate disseminated by PSU College Republicans speaker Mike Mahoney on his Gab account.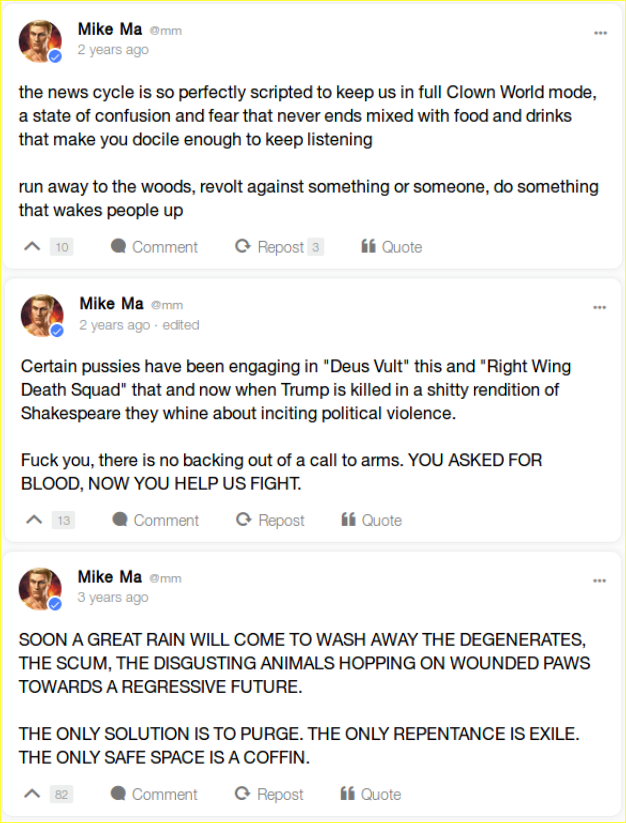 A sample of Mahoney's exhortations and fantasies of fascist violence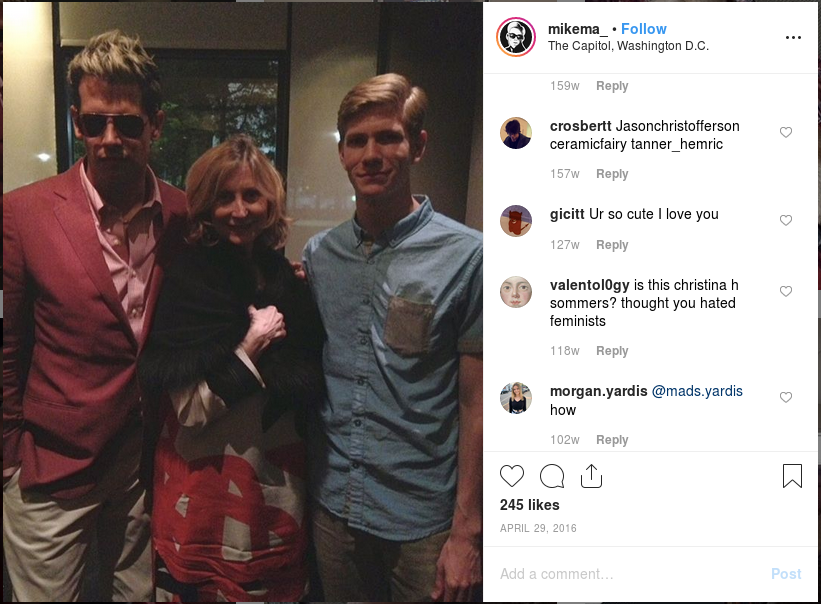 Mahoney poses for a photograph with Yiannopoulos and another recent PSU College Republicans guest, "Intellectual Dark Web" activist Christina Hoff Sommers. Sommers has her own links to contemporary racist movements, having appeared in 2016 on the white nationalist "Radio 3Fourteen" podcast to deliver an anti-feminist screed to the program's fascist listeners.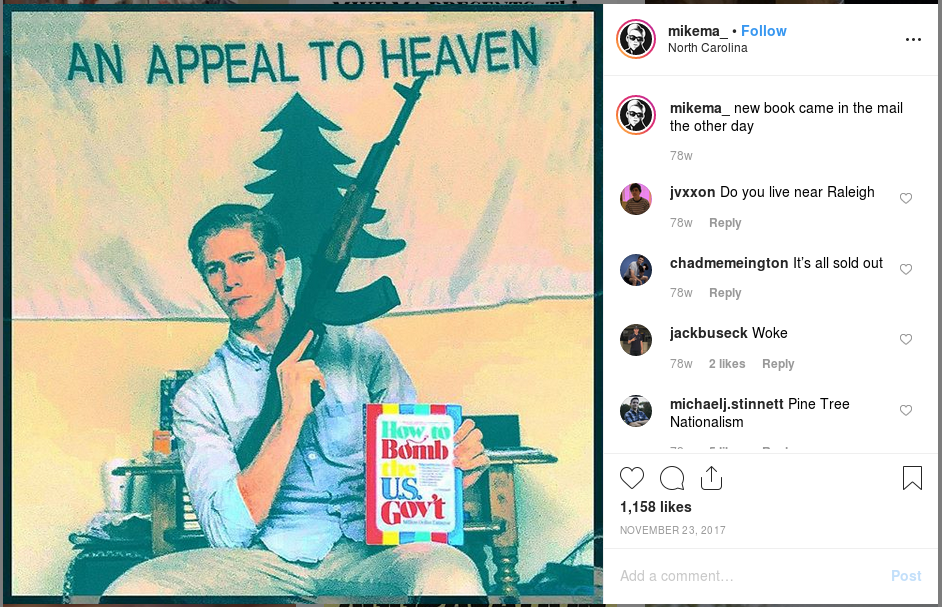 Mahoney poses with a Kalashnikov rifle while holding a book called "How to Bomb the U.S. Government." Behind him a "pine tree flag," which originated in the U.S. revolutionary war, but enjoys current popularity with far-right activists and eco-fascists.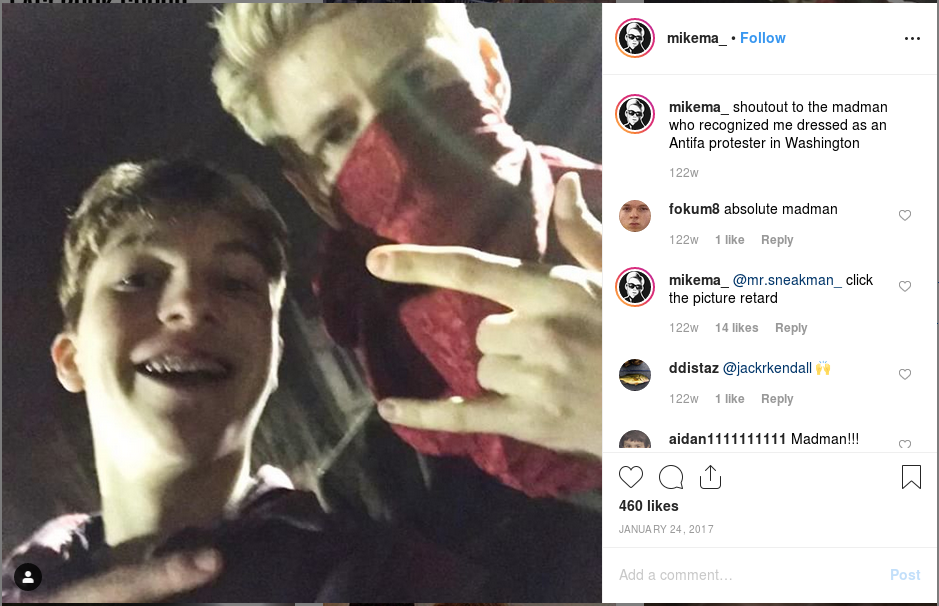 Mahoney's social media posts suggest that he acted as an agent provocateur, posing as an anti-fascist at Milo's January 20, 2017 appearance in Seattle, WA, where one of Milo's alt-right supporters shot a counter-protester in the stomach.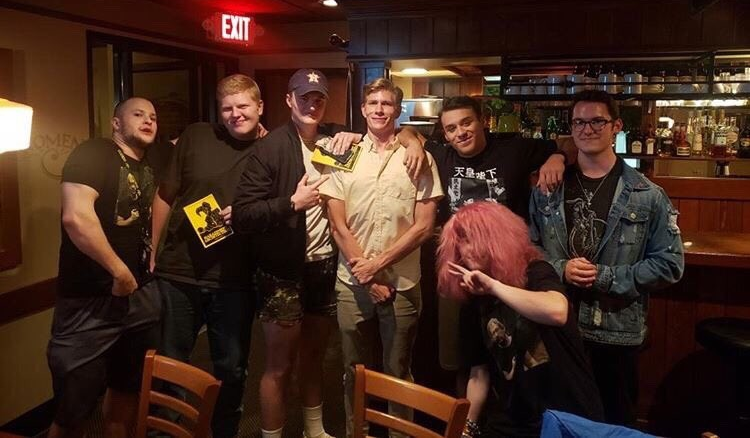 Mahoney poses at a nearby bar with alt-right fans from the May 31, 2019 PSU College Republicans event.
In organizing this event, the PSU College Republicans signal their continued amenability to fascist collaboration and entryism of the sort which has been practiced in recent years by groups such as Identity Europa, Vanguard America, and other broad swathes of the alt-right and white supremacist movements. It is a scandal and a danger to our communities that this university-recognized organization– whose event and speaker funding is almost certainly derived from university student org funds– is funneling student resources toward far-right figures such as Carl Benjamin (aka Sargon of Akkad), and Mike Ma, who have made themselves instrumental to contemporary fascist movements; or to violent reactionaries like YouTube troll Michael Strickland, who pulled a gun and threatened a crowd at a Black Lives Matter rally and was subsequently found guilty on 21 charges.
Rose City Antifa is dedicated to the pursuit of a community free of anti-Semitic, racist, and homophobic propaganda, and to exposing neo-Nazis before their ideology manifests itself in action. If you have further information on Mike Mahoney, the people who organized and attended his visit, or any other racist or fascist organizing in your area, contact Rose City Antifa at [email protected].