reposted from Unicorn Riot
Editor's Note: Unicorn Riot's published leaks appear here in a shortened version, only including the pertinent information about Pacific Northwest Patriot Front activity. However, clicking through the links will give you access to the entirety of the leaks. Enjoy.
The detailed inner workings and operations neo-Nazi organization Patriot Front have come to light after a massive leak from their chat servers. The exposed communications show coordination with their leader Thomas Rousseau to deface murals and monuments to Black lives across the United States, and intimate struggles to bolster morale through group activities like hiking and camping.
This release includes more than 400 gigabytes of data published by Unicorn Riot. Ostensibly private, unedited videos and direct messages reveal a campaign to organize acts of racial hatred while indoctrinating teenagers into national socialism (Nazism). The information stands as a chilling reminder that fascist organizing thrives in secrecy and obscurity.
Content advisory: Organized racism, harassment, vandalism
Patriot Front, known for its disconcerting masked 'flash rallies' and racist sticker campaigns, was organized by Thomas Rousseau in the immediate aftermath of 2017's Unite the Right march in Charlottesville, VA. Rousseau gained power within the group's predecessor organization, Vanguard America, in the fallout from the nationally orchestrated event. After James Alex Fields, seen sporting a Vanguard America shield during the march, murdered Heather Heyer, Rousseau moved to split with Vanguard America, taking with it most of the members as well as the website domain name "bloodandsoil.org."
Vanguard America's 'bloodandsoil.org' domain was reconfigured to support Patriot Front's main internal communications system: a self-hosted instance of RocketChat, an open-source chat server software similar to Slack and Discord; messaging platforms with multiple channels.
Information security in this centralized communications project failed almost entirely. Sources provided Unicorn Riot with screenshots, audio recordings of meetings (self-hosted on another system called Mumble), extracted texts of group chats and even the private direct message system. Chat messages contained dozens of links to unlocked, public mega.nz cloud storage directories, which hosted more than 400 gigabytes of raw videos and photos of Patriot Front events, gatherings, scouting for vandalizing Black monuments, and much more. Most of the materials come from the latter half of 2021, including a rally in Washington, D.C.
This release is now made available to the public at vault.unicornriot.ninja. Volunteers upgraded Unicorn Riot's DiscordLeaks platform to host 55,249 RocketChat messages and file attachments, allowing the public to search the cache and inspect how fascists try to operate discreetly at their most inner levels. (See BitTorrent info below)
The civil rights lawsuit 'Sines v. Kessler' concluded last November with multiple findings of civil liability against Vanguard America and other white supremacist defendants for their participation in the deadly Unite the Right event. Rousseau was deposed during the lawsuit and asked extensively about his role in planning the Charlottesville rally and encouraging his followers to participate in street violence there.
Members of Patriot Front consider themselves a part of "the greatest nationalist activist organization in the world." As the leaks reveal, they are micromanaged by their Texas-based director who oversees every detail of the organization from its persistent campaign of racially motivated vandalism to the minutiae of clothes members may wear in public.
Unicorn Riot reported in 2017 how Vanguard America's "Southern Front" server on Discord was used to celebrate Fields' vehicle attack, as well as exposing the group's links to Robert Ray (aka 'Azzmador') of the Daily Stormer, Richard Spencer and other figures in the white supremacist movement. In 2018, with further Discord leaks data we examined how Patriot Front developed its style of stickering and how they show up as a security force for touring speakers like Spencer and other 'alt-right' events, while enthusiastically promoting sexual assault and training for further violence.
After the 2018 disclosures, internal chats were moderated more strictly, but the group's prospective member intake process, exposed in the current leak, most clearly highlights the members' ardent beliefs in national socialism and adulation towards historic Nazi figures.
Despite Patriot Front's strict measures to avoid overt Nazism in their public rhetoric, the group's racist, antisemitic and misogynistic nature shines through quite clearly in their more recently leaked chats. Members frequently use slurs and brag about IRL racist harassment.
The recent leak also reveals that Patriot Front preys on teenagers, recruiting members through the internet who are still legally minors, indoctrinating them with white supremacist ideology and even encouraging them to lie to their parents so the group can transport them across state lines for fascist events. According to the chats, while the group's official policies require members to be at least 17 ½ years old to join, in reality it "goes by a case by case basis" with some members being recruited below that age.
According to leaked messages, Patriot Front's rank and file still enjoy doing 'Roman salutes' despite rules saying they shouldn't. In one direct message exchange members nostalgically recalled throwing up Nazi salutes "in front of a PF flag in full uniform" at a bar in Europe while meeting up with Polish neo-Nazi skinheads. In one leaked video of masked Patriot Front members reading a manifesto, as they take off their official gear one of them remarks, "Sieg fucking heil! Lets fucking go. I can say that now that [the recording is] over."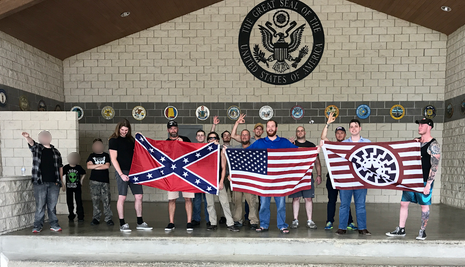 Patriot Front also routinely praises historical fascist leaders such as Mussolini, Oswald Mosley, and American Nazi Party founder George Lincoln Rockwell, as well as contemporary Nazi and fascist groups such as the Nordic Resistance Movement in Sweden and Casa Pound in Italy. Members sometimes address each other with Nazi titles, and others reportedly hung swastika Christmas decorations or displayed the Nazi sonnenrad 'black sun' symbol on their home.
Numerous membership applications marked 'ACCEPTED' are logged as "ideology: national socialist." Another member wrote on his approved application to join that the "biggest threat to America is Jewish domination over the world" and complained about an incident in his childhood when his Jewish kindergarten teacher gave blocks that he wanted to play with to another child.
Pacific Northwest: Patriot Front's Pacific Northwest Network Director Colton Michael Brown posts in RocketChat as 'ND – John WA' and has taken part in a prolific amount of Patriot Front vandalism as well as directing others to do so. RocketChat message logs show Brown took personal responsibility for Patriot Front stenciling in front of Seattle's City Hall as well as its Capitol Hill neighborhood. He also provided instructions to his chapter's members on what kinds of spray paint to use [1, 2, 3, 4], and told one to modify fire extinguishers for spraying paint.
In a direct message exchange about a business displaying "anti-American propaganda", Colton Brown aka 'ND – John WA' and Patriot Front member 'Patrick NC' had a frank exchange about their group's involvement in apparent vandalism and the problems it could pose to their organization. "Maybe I can talk to Thomas about stenciling the store", 'Patrick' wrote, before adding "Of course, never talk about criminal activities … that's how we get doxed, sentenced, and basically fucked over."
Brown's reply did not seem amused. "The org would be pinched if we had to fund any legal funds right now," he wrote. "I'd advise not doing that. Do you have $3000 or more to spend on a petty vandalism case?"
After learning in December 2021 that his chapter of Patriot Front had been infiltrated, Brown wrote to Rousseau that he was becoming "concerned all of us or at least Tyler will get charged for the Olympia mural." 'Tyler WA', real name James Julius Johnson, was identified by antifascists last month as one of the Patriot Front members who painted over the "Respect & Love Olympia" mural on 4th avenue in Olympia, WA on October 16 around 3 a.m.
The mural vandalism garnered attention and outrage in the local media, with Patriot Front members declaring victory and feeling heartened when city officials announced they would remove the mural instead of continuing to repaint it. Chat logs reveal that Patriot Front leader Rousseau was not only aware of the Olympia mural vandalism, but even joined a group call with the Pacific Northwest chapter to direct the group in how best to accomplish the task.
"Obviously the objective is to mess up as much of it as possible," instructed Rousseau, "I would have start out by having a few guys just going up and down the length of it with turbo cans…so that if they are going to repair it they're essentially going to have to start from scratch."
Worried that he "might get a knock" from police over the mural, Brown "moved all [his] [Patriot Front] materials and political stuff" into the car of another member who stored his items in their home, according to his messages to Rousseau. (Brown was previously named in a 2020 report filed by a detective with the King County Sheriff's Office as part of an FBI Joint Terrorism Task Force (JTTF) investigation into Patriot Front activity in Washington state.)
The Olympia mural vandalism was primarily planned by Jacob Stephen Sundt (aka 'Clark WA'), a member of Brown's chapter, who lives in Olympia "not too far away from downtown." Before Patriot Front knew they were infiltrated, Sundt bragged that "our recent actions have shown we can walk down busy avenues at prime time in Seattle and deface the largest most well protected mural in shitlib olympia without so much as being accosted once."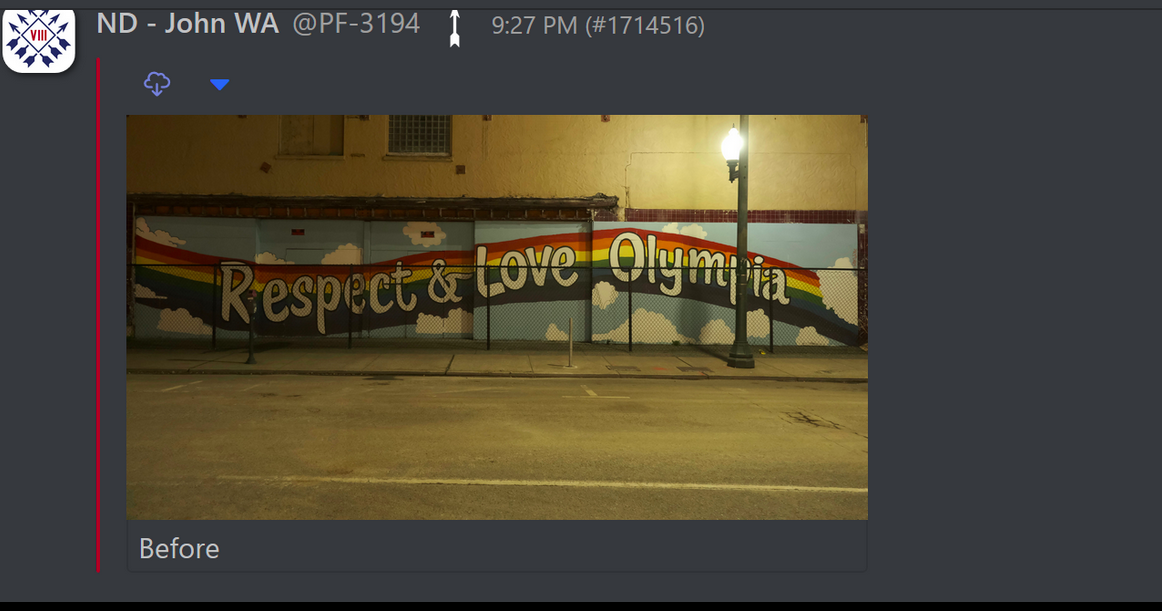 Members of Patriot Front's Pacific Northwest chapter, including Brown, also defaced a mural in Portland, OR in July 2021 honoring the lives of Breonna Taylor, George Floyd and Ahmaud Arbery. "When we did the George Floyd one," Brown said in an audio call with Rousseau and other Patriot Front members, "we were in and out maybe two minutes. It was really fast and we got up the URL stencil like three times."
After the artist who created the mural called for help on social media, the mural was repainted within 24 hours.