reposted from Rose City Antifa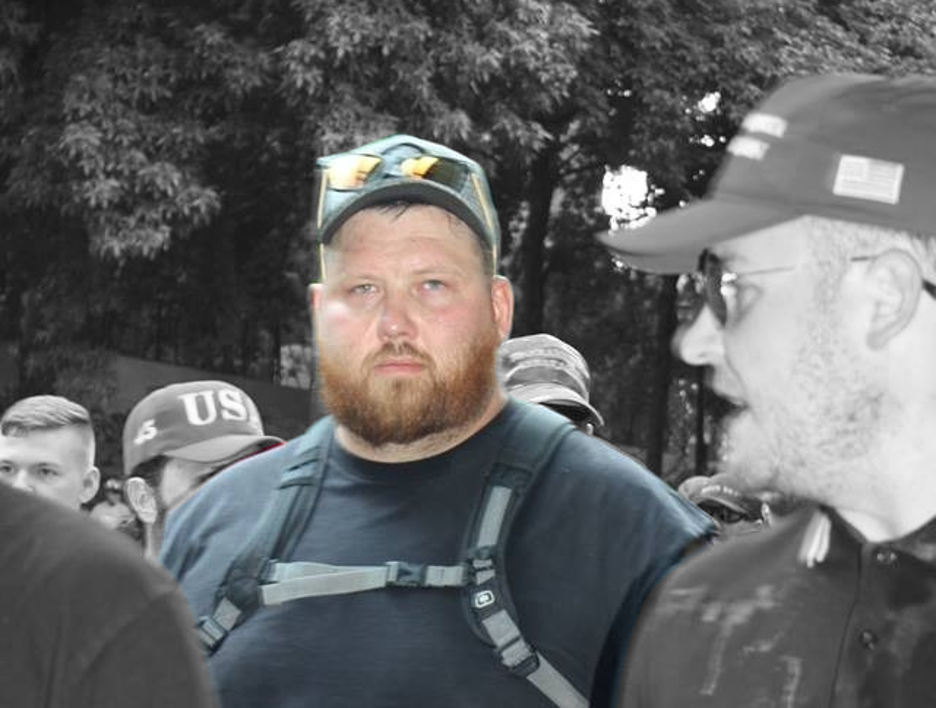 Jacob "JD" Stockton is a Portland-based member of the extremely violent alt-right Proud Boys hate group. He has also participated in violent rallies organized by Patriot Prayer founder Joey Gibson since at least June 30, 2017. Stockton is one of the organizers of the upcoming June 29, 2019 Proud Boys rally in Portland, where members of the hate group have openly expressed their intent to assault and harm Portlanders.
Current Details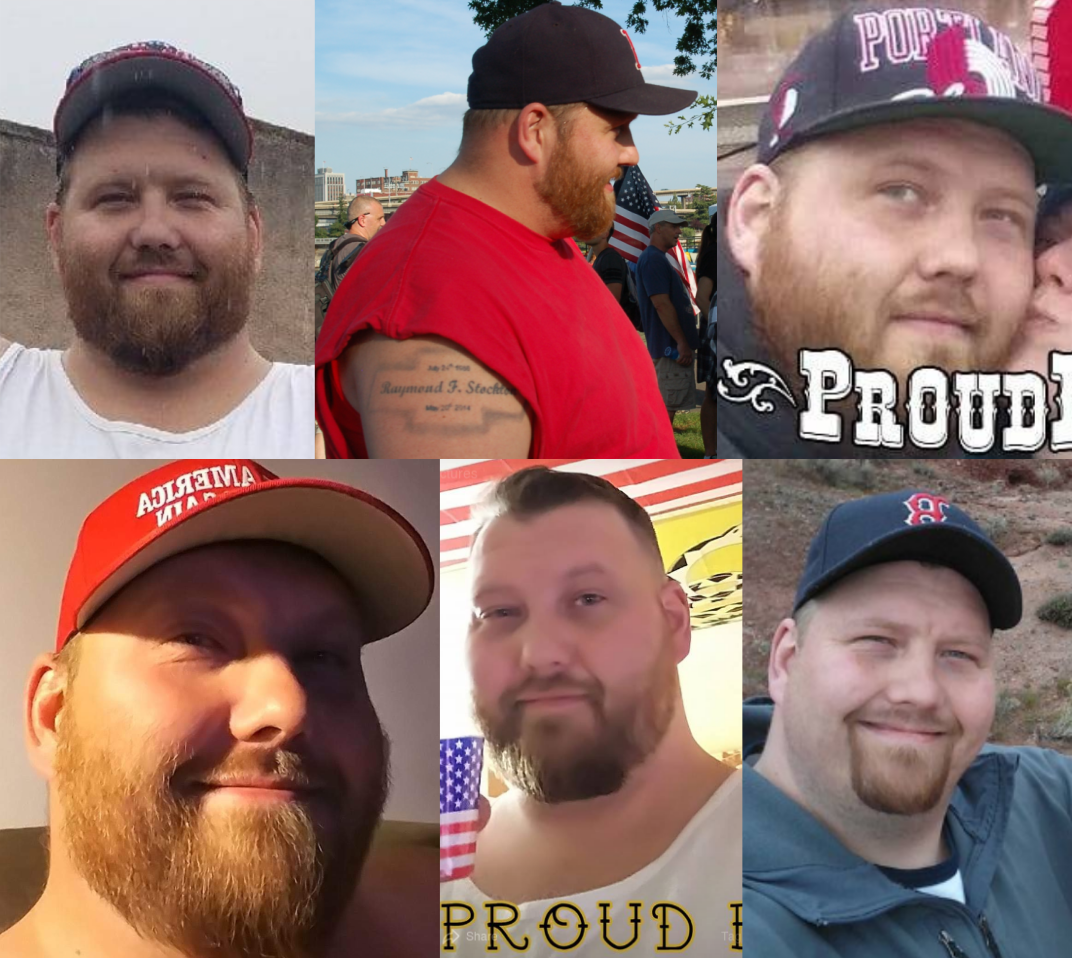 Name: Jacob Dean Stockton
AKA: JD Stockton
DOB: 07/25/1982
Phone: 503-676-9176
Social Media: facebook.com/jd.stockton.3; facebook.com/jd.stockton.94; twitter.com/stockton_jd;
Employment: USA Pawn – Address: 18449 SE Stark St, Portland, OR 97233; Phone: 503-912-0600; Parent Company: EZcorp – HR: 702-366-1521; Corporate Contact: 512-314-3400
Tattoos: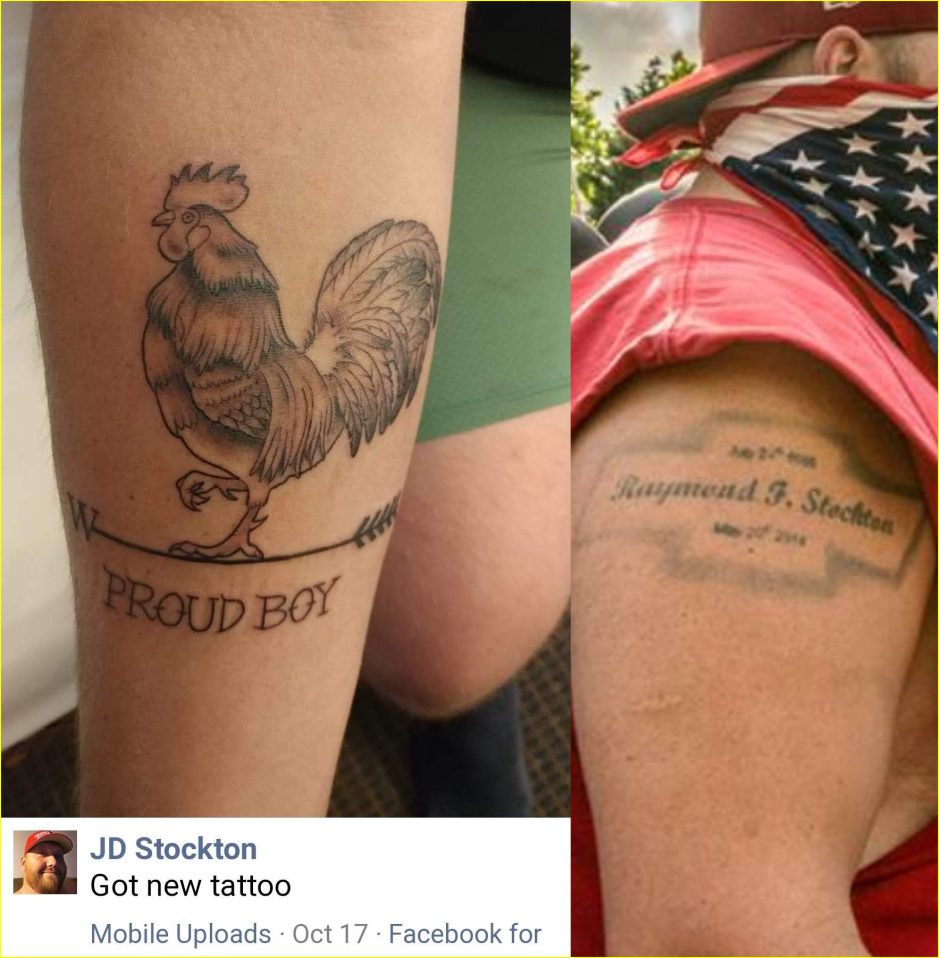 Here are a few of the far-right rallies JD Stockton has participated in over the past several years
June 30, 2017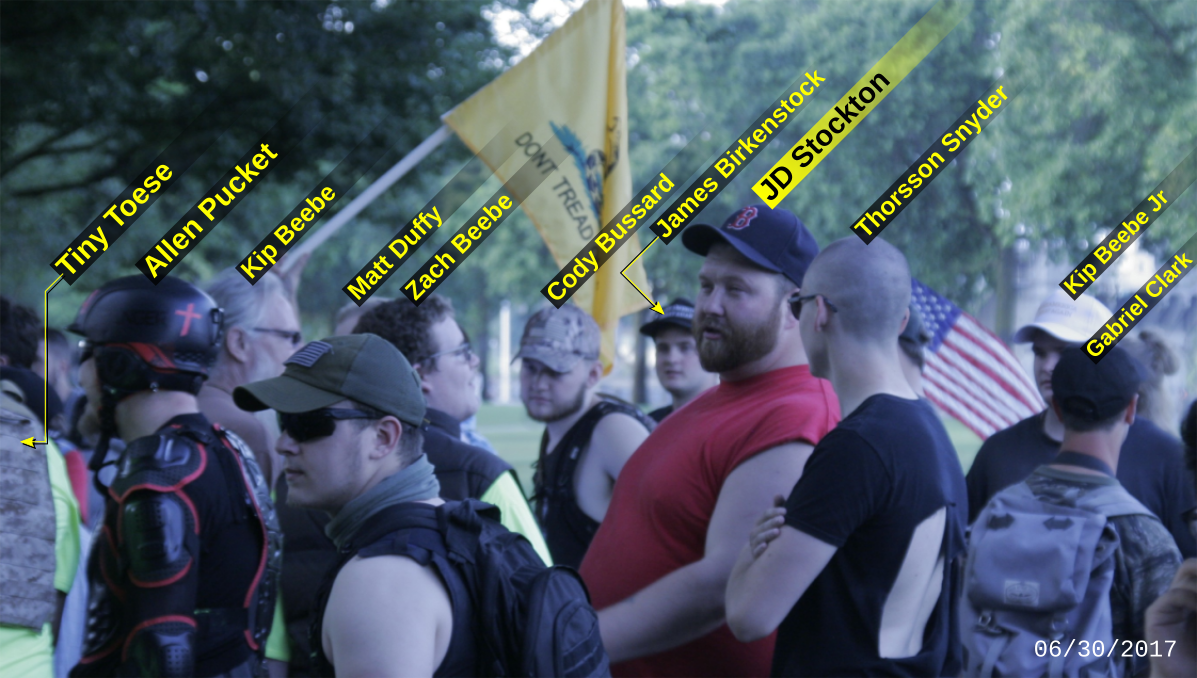 JD Stockton chats with local white supremacist Thorsson Snyder at Joey Gibson's June 30, 2017 hate rally at the Portland waterfront. Also seen are white nationalist anti-semitic hate preacher Allen Pucket, violent Proud Boy Tiny Toese, PSU fascists Cody Bussard and Matt Duffy, Kip Beebe and two of his young relatives, James Birkenstock, and Gabriel Clark.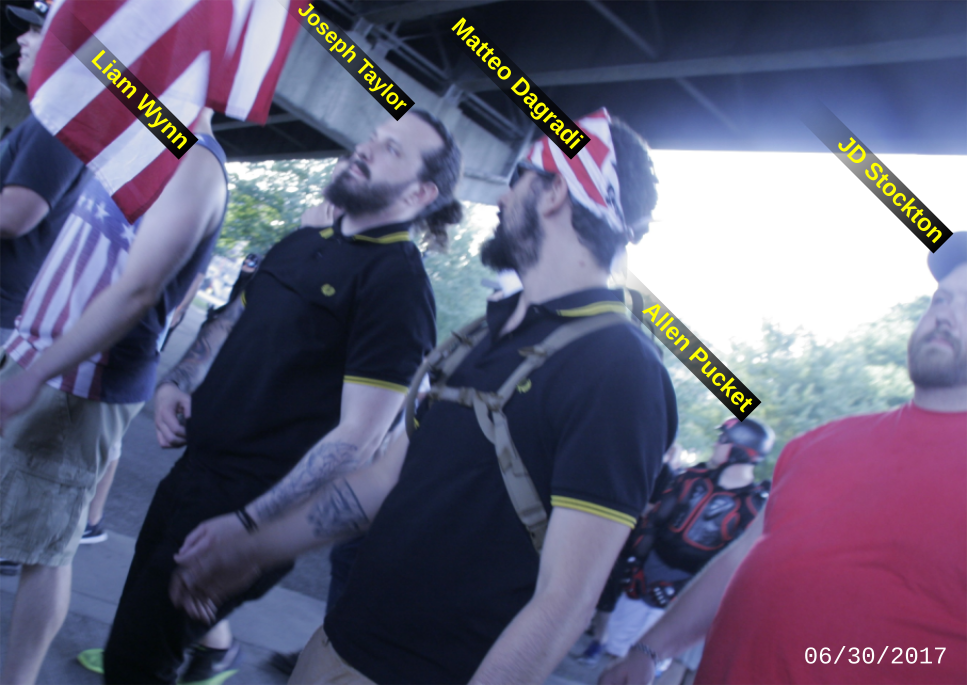 JD Stockton is seen with fellow Proud Boys hate group members Matteo Dagradi (who is also organizing the June 29, 2019 Proud Boys assault on Portland) and Joseph Taylor, as well as PSU fascist Liam Wynn, and violent racist hate preacher Allen Pucket.
August 6, 2017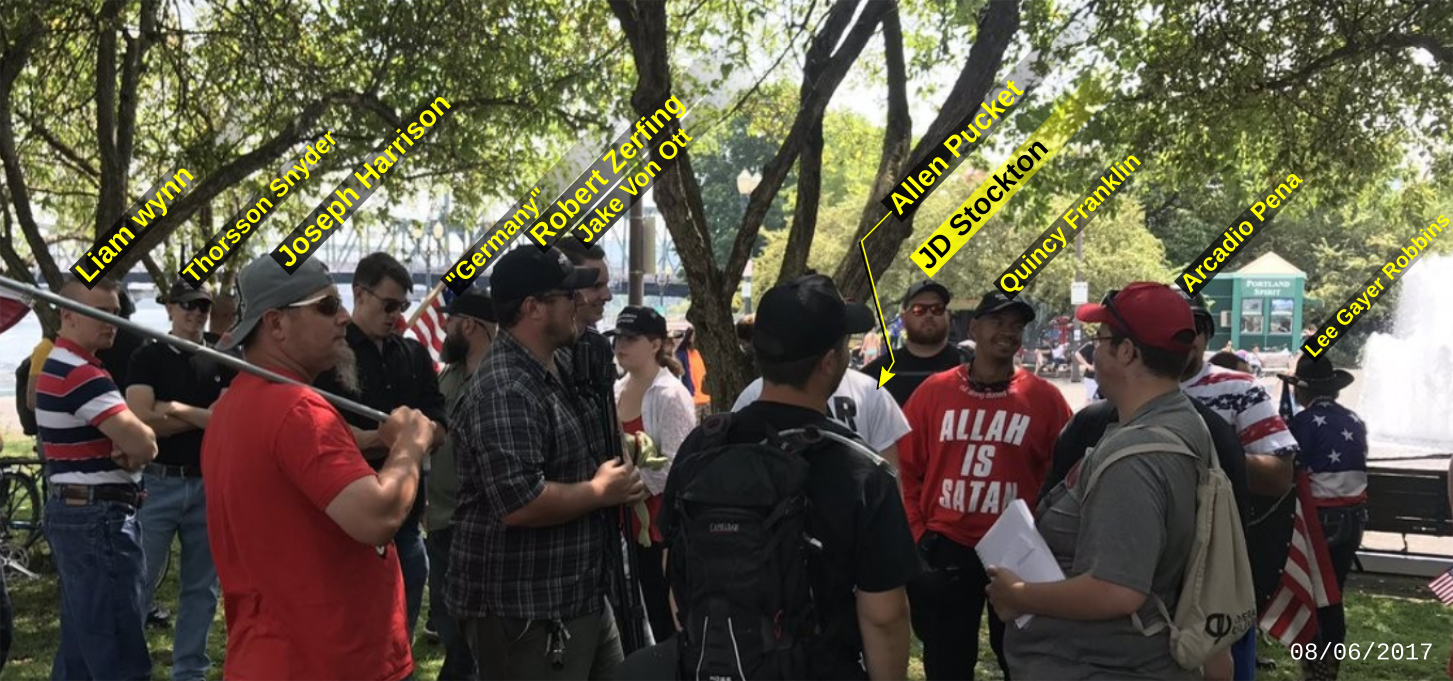 JD Stockton chats with violent white nationalist hate preacher Allen Pucket as well as his followers Arcadio Pena, and Islamophobic and homophobic Portland Water Bureau employee Quincy Franklin. Also present are then-Proud Boy Robert Zerfing, white nationalist Jake Von Ott, local fascists Liam Wynn and Thorsson Snyder, PDX Stormers neo-Nazi "Geramany", violent Patriot Prayer member Joseph Harrison, and far-right GOP activist Lee Gayer Robbins.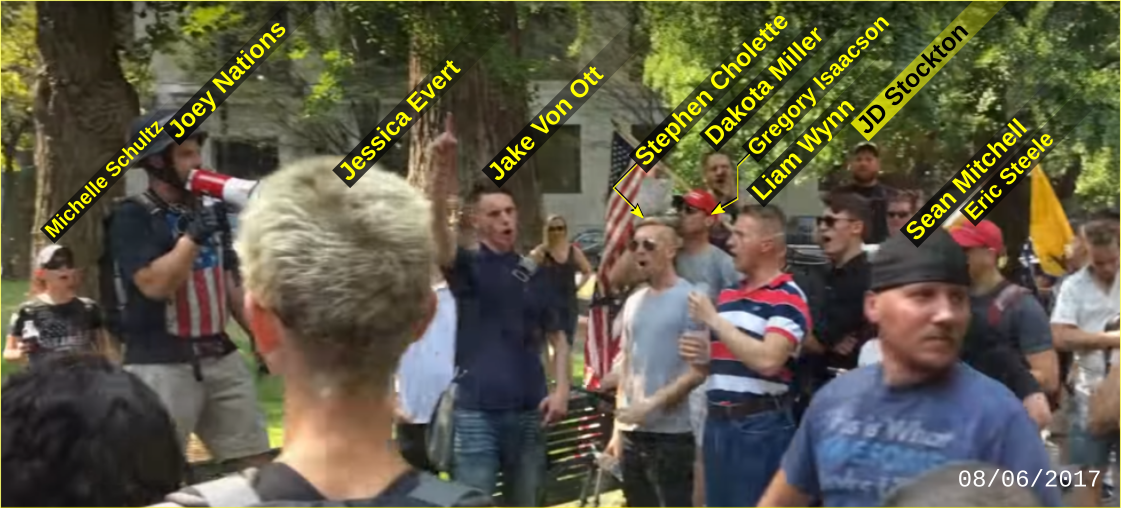 JD Stockton listens to a speech by violent, fascist-friendly Oregon 5th district GOP congressional candidate Joey Nations along with fascists Jake Von Ott, Dakota James Miller, Liam Wynn, Stephen Cholette, Eric Steele, and Jessica Evert; as well as Patriot Prayer holocaust denier Gregory Isaacson, and Patriot Prayer members Michelle Schultz and Sean Mitchell.
June 30, 2018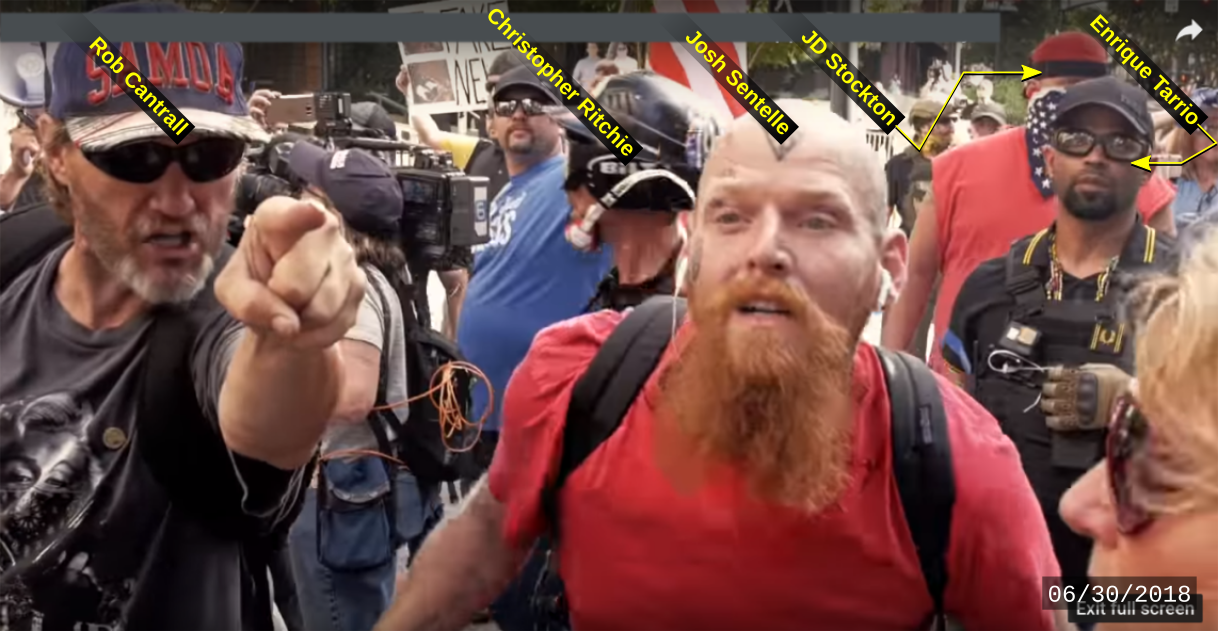 JD Stockton attends Joey Gibson's extremely violent June 30, 2018 rally in the company of deadly Charlottesville "Unite The Right" rally participants Christopher Ritchie and Enrique Tarrio (who is also the current Chairman of the Proud Boys hate group); extremely violent misogynist Joshua Stephen Sentelle, and would-be arsonist Proud Boy Rob Cantrall.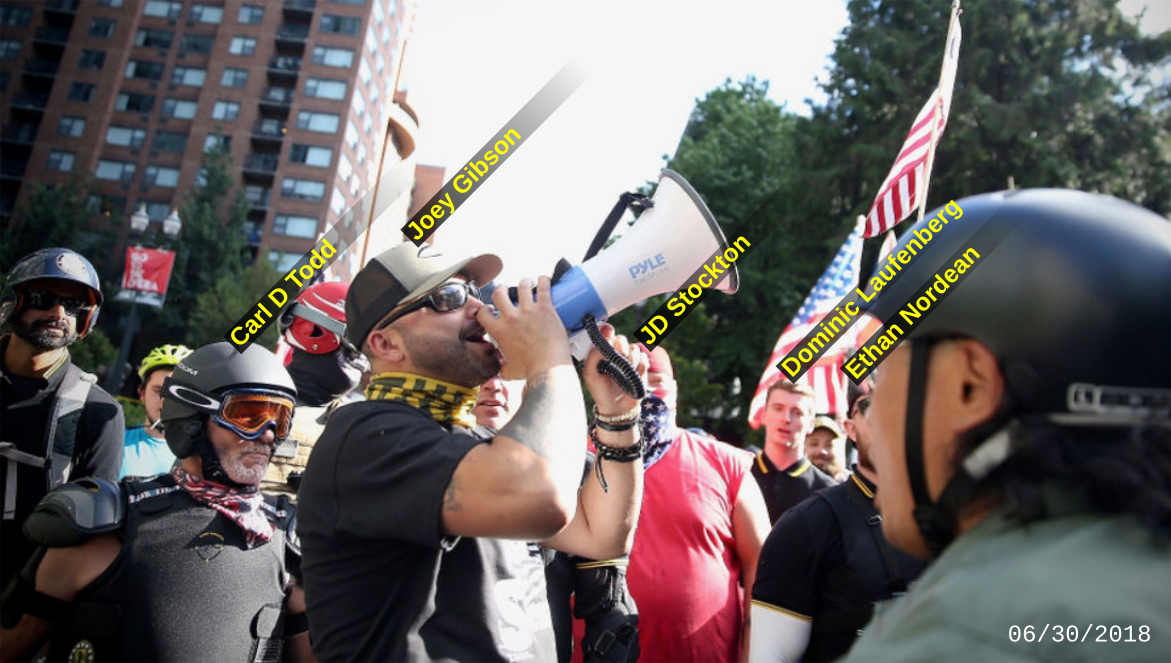 JD Stockton is seen seen with Joey Gibson as he whips his followers up for violence along with fellow Proud Boys hate group members Ethan Nordean, Dominic Laufenberg, and Carl D Todd, who is also one of the organizers for the Proud Boys hate group's planned June 29, 2019 attacks in Portland, OR.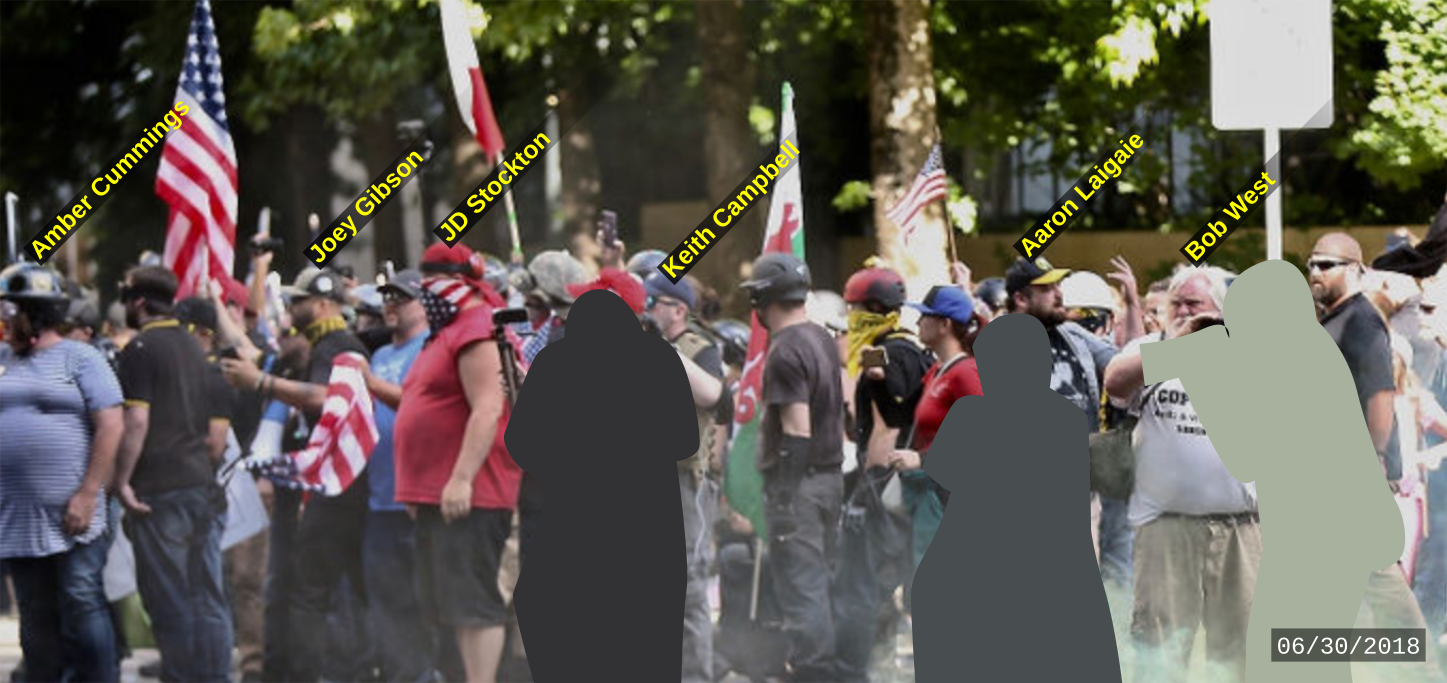 Stockton is seen with Patriot Prayer demagogue Joey Gibson as well as with Oakland far-right organizer Amber Cummings, far-right YouTube propagandists Keith Campbell and Bob West, and fellow Proud Boy Aaron Laigaie.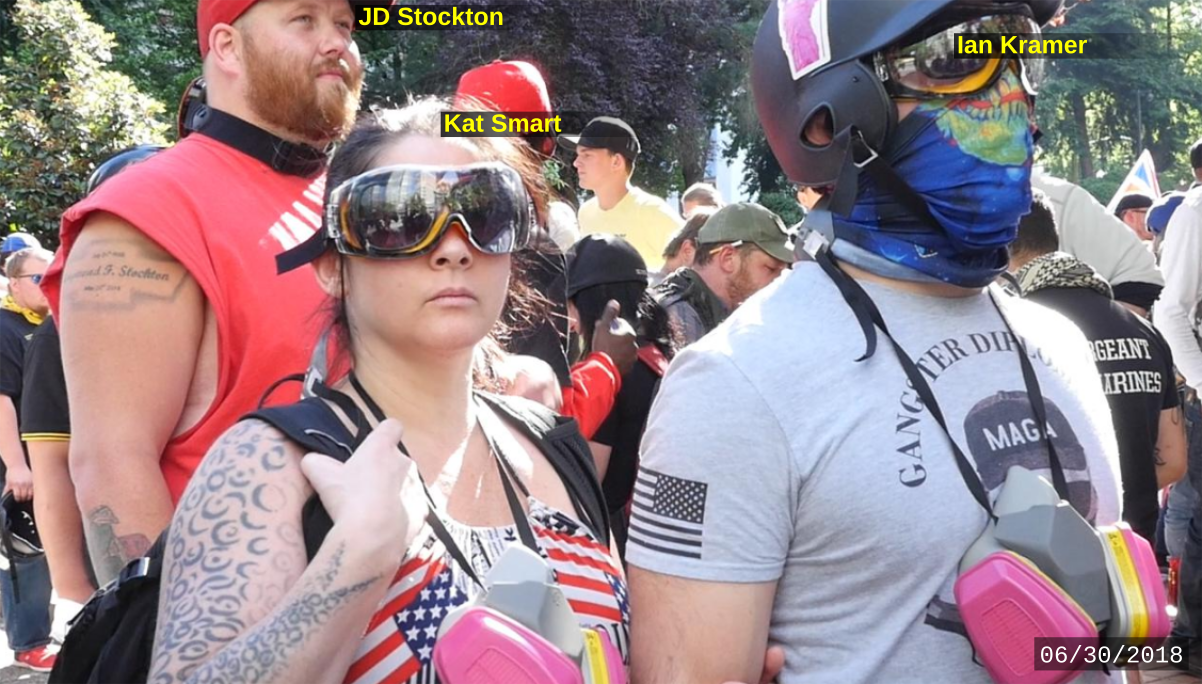 Stockton is seen with extremely violent fascist Patriot Prayer member Ian Alexander Kramer and also with Kat Smart. Both Kramer and Smart participated in the violent attack orchestrated by Joey Gibson against a May Day celebration at Cider Riot in Portland, OR. Kramer struck a woman in the back of the neck with a baton, fracturing her vertibra; he has been named as a defendant (along with Joey Gibson) in a one million dollar lawsuit by the bar.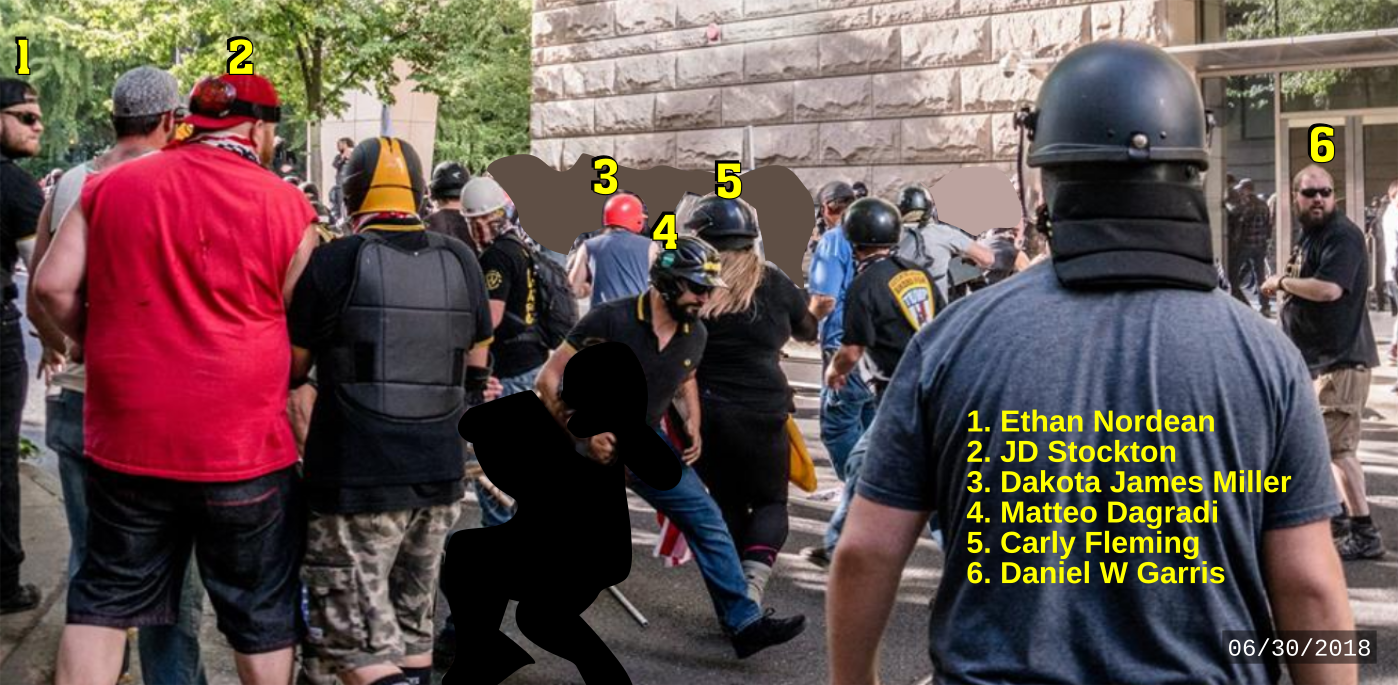 Stockton is seen during the excessive violence of Joey Gibson's June 30, 2018 hate rally with fellow Proud Boys hate group members Ethan Nordean, Matteo Dagradi, and Daniel W Garris; as well as with local fascist Dakota James Miller, and Patriot Prayer follower Carly Fleming.
August 4, 2018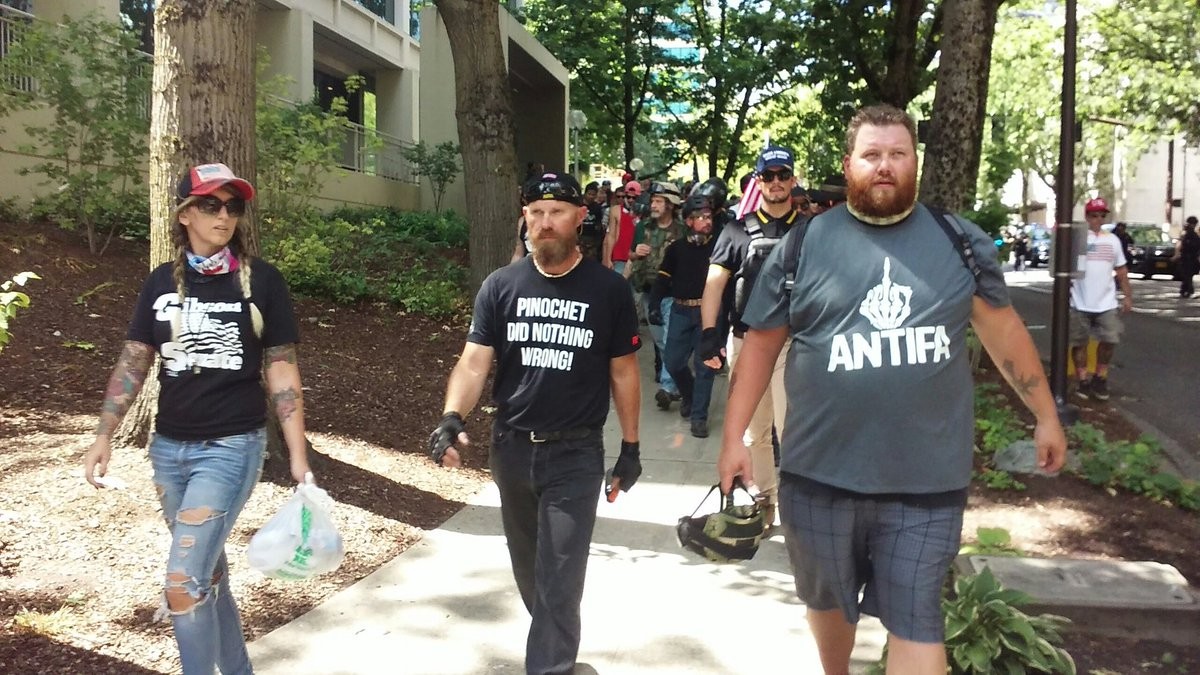 Proud Boys hate group member JD Stockton is seen with violent then-Proud Boy Russell Schultz during Joey Gibson's August 4, 2018 hate rally. Schultz wears a shirt celebrating fascist dictator Augusto Pinochet's torture and murder of leftist political dissidents. The slogan on the shirt is modeled after an earlier alt-right slogan which declared "Hitler did nothing wrong." The shirt also bears the acronym "RWDS" which stands for "Right Wing Death Squads".
The Proud Boys have organized and coordinated directly with violent white nationalists and neo-Nazis from the beginning of their organization, and their beliefs and credo are irredeemably steeped in the same fascist ethos as the larger alt-right movement. Rose City Antifa is dedicated to the pursuit of a community free of the kind of anti-Semitic, racist, and homophobic propaganda and organizing facilitated by neo-fascist organizations like the Proud Boys. If you have further information on JD Stockton or other fascists or hate group members organizing in your area, please contact us at [email protected].