reposted from Rose City Antifa
On June 29, 2019, Andy Ngo tried a repeat of his actions on May 1, 2019– to film the actions of armed men on a mission to attack activists, to be used for propaganda purposes. As on May Day, this past weekend he and the far-right mob were stopped, physically. The events of this weekend are what we mean by community defense. The entire community came together, using multiple tactics, and sent a premeditated attack by the far-right packing. This is exactly what should happen when the far-right attempts to invade our town.
On May 1, a party was held at a local bar. A group of far-right brawlers sought out this bar, looking for people to victimize. In the resulting melee, Ian Kramer fractured a person's vertebrae with a metal baton. Andy Ngo arrived with this far-right group, filmed this assault, profited by it with appearances on national media, doxxed and harassed the victim, and distributed his video as propaganda to support more attacks. He did this in cooperation with David Willis, an anti-semite; Ian Kramer and Eric Oelkers, both fascists; Joey Gibson, leader of Patriot Prayer; and other Proud Boys and far-right brawlers.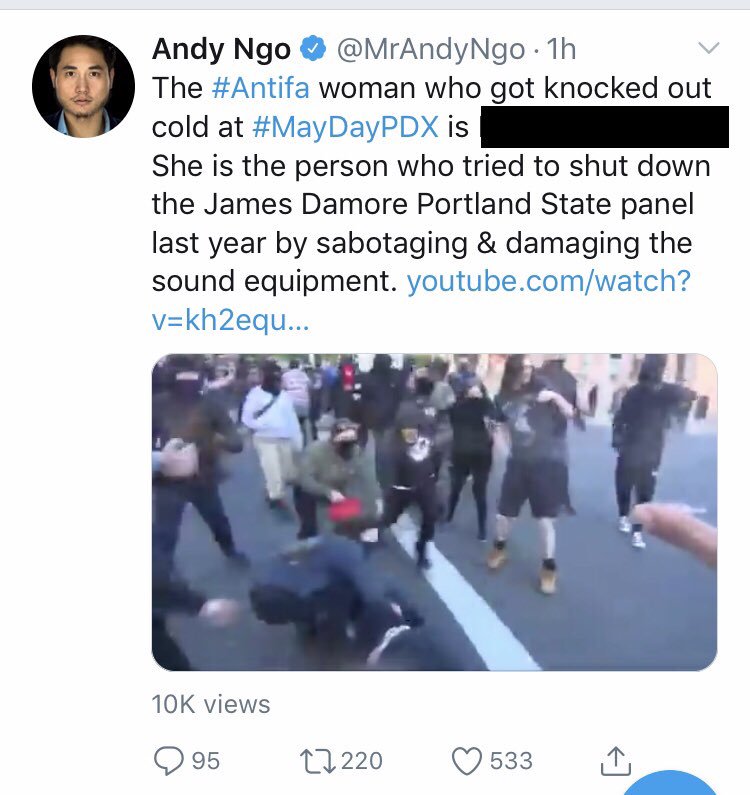 Andy Ngo doxxes the person hit by Ian Kramer, enleashing a deluge of threats against them.
Andy Ngo was the first to announce the June 29 Proud Boy rally at their behest, serving as their unofficial PR spokesperson. His actions on that day were part of a plan to repeat his performance on May 1. But he and the Oregon Militia men who accompanied him were stopped in their tracks. He will have no video to sell, showing activists being attacked.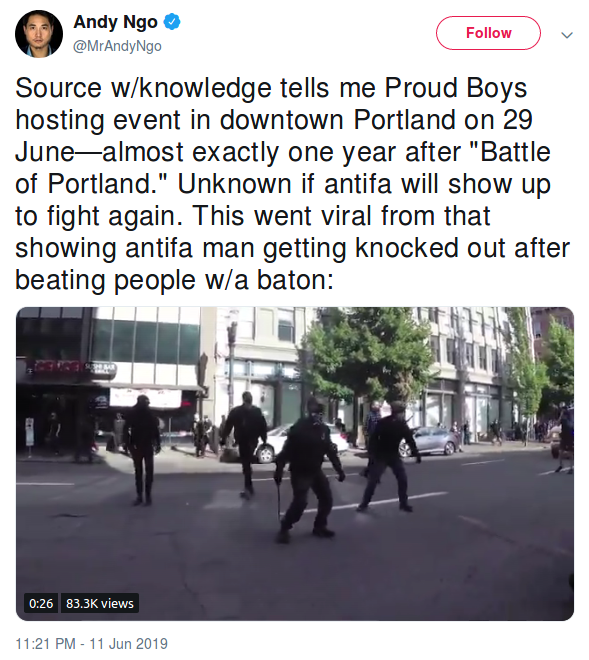 Ngo announces the Proud Boy rally on Twitter.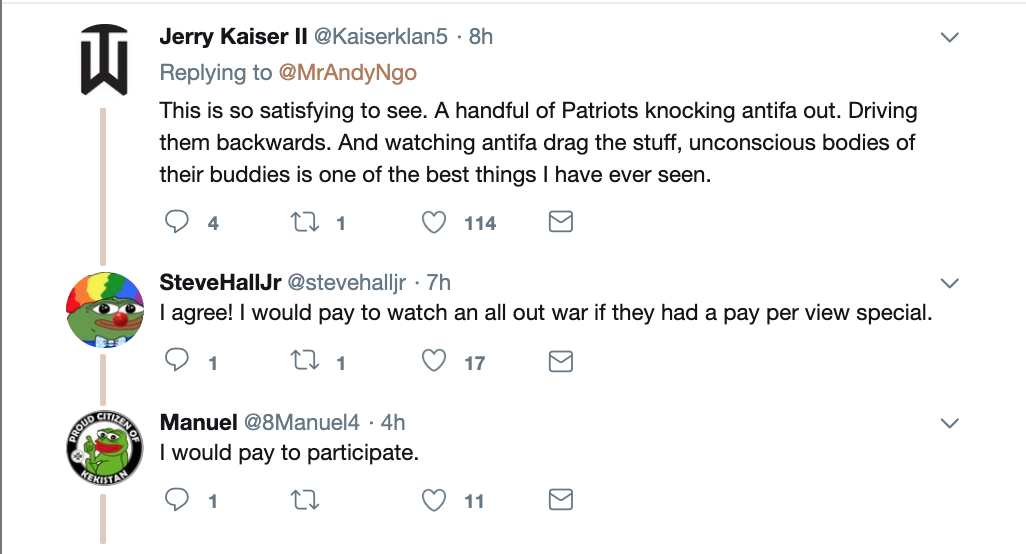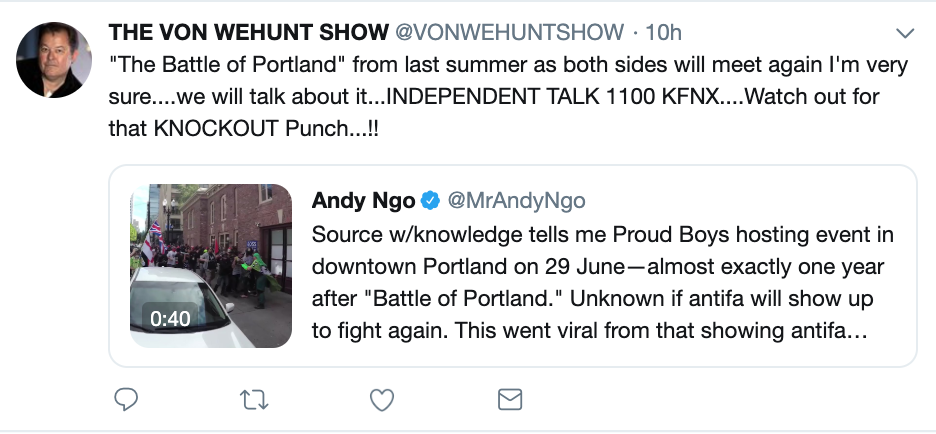 The responses to Ngo's tweet show the value his video work has for Proud Boys and the far-right, encouraging violence and hatred.
We say, enough is enough. If you rally the far-right to attack our city and profit by their violence, you are one of them. And the community will stop you, however it can, as many times as it must.
Harkening back to 2016, when the media had a panic about "free speech," we have heard a new panic about "freedom of the press." Just as freedom of speech has never suffered through the years from anti-fascists defending their cities against neo-Nazi organizing and far-right incursions, the fourth estate is not being attacked by the left. The propagation of violence, the profiting by fascist mob action, and the instigation of hateful ideologies is not journalism, any more than it is free speech. Ngo himself, along with his far-right publications, have promoted death threats against journalists and academics. RCA will defend our community against those threats, as we always have.