reposted from Rose City Antifa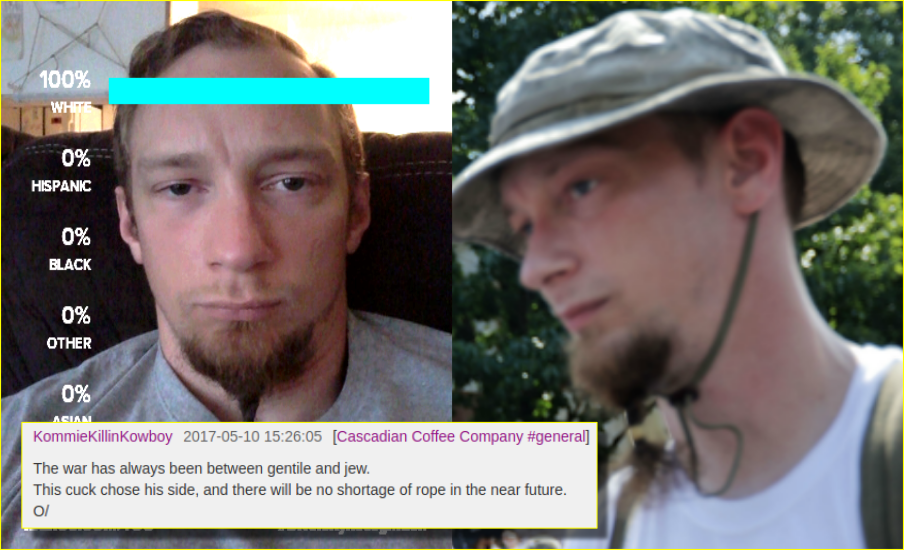 Rose City Antifa is exposing the identities of three neo-Nazis who are part of the local Daily Stormer Book Club (DSBC), known as the PDX Stormers. Since 2016, the PDX Stormers have harassed and threatened members of our community with anti-Semitic, white nationalist propaganda as members of the internet's largest community of Nazis and white supremacists, organized via the web forums of The Daily Stormer neo-Nazi website. Follow along with us using the hashtags #stormerbreaker and #debaseddoxx.
Articles about the PDX Stormers:
Jarl Rockhill
Alexander Becker
Matthew Blais
Bogdan Gerasimyuk
Michael Dorsey (this article)
Today, we identify Vancouver, Washington neo-Nazi Michael Dorsey: participant in the Cascadian Coffee Company (CCC) Discord logs, attendee of Patriot Prayer's hate rallies, member of the PDX Stormers branch of the Daily Stormer Book Club neo-Nazi franchise, and PDX Stormer representative in attendance at the deadly 2017 "Unite the Right" neo-Nazi rally in Charlottesville, VA.
Dorsey is less of a presence on the Cascadia Coffee Company Dischord logs than his close friends Matthew Blais and Bogdan Alexander Gerasimyuk but his chosen moniker KommieKillinKowboy speaks volumes and his anti-Semitism is particularly vicious.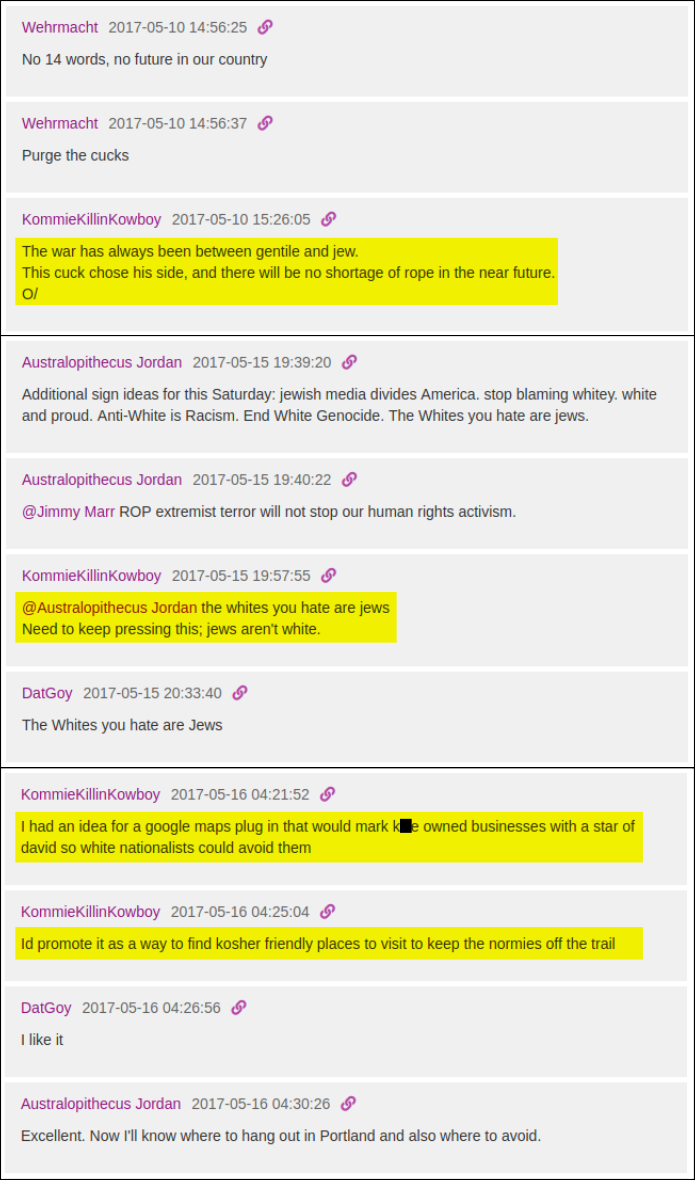 Several instances of Michael Dorsey's (aka KommieKillinKowboy) anti-Semitism from the CCC logs. Also participating are Justin Marbury (aka Wehrmacht), David Woods (aka Australopithecus Jordan), and Andrew Oswalt (aka DatGoy).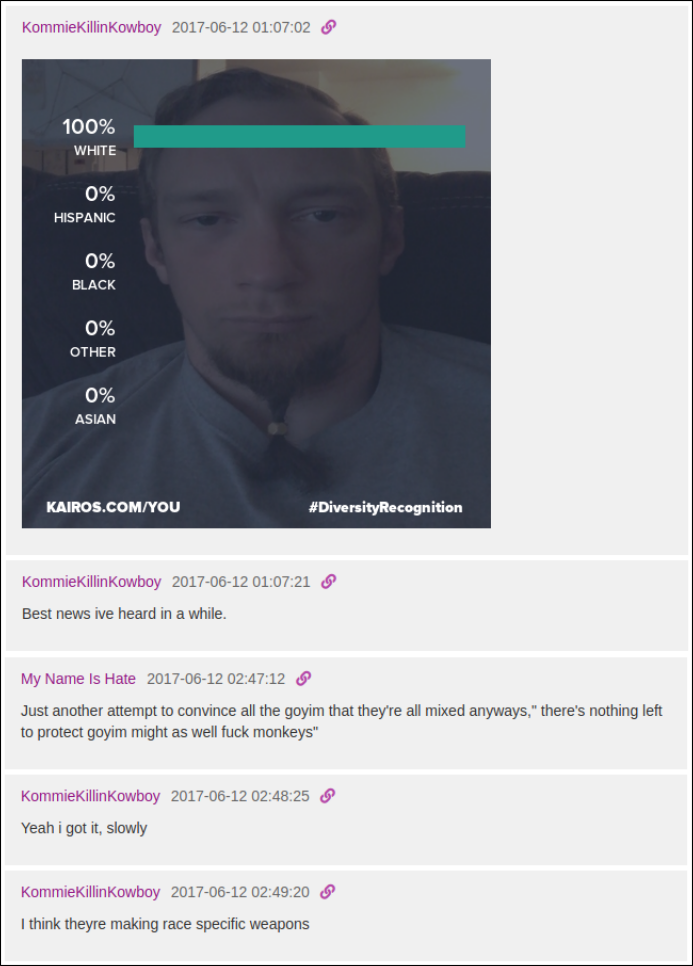 Several participants in the CCC discord server uploaded their results from an online "diversity recognition" app. Here Dorsey shares his results and proclaims his whiteness score to be the "best news I've heard in a while." Matthew Stafford (aka My Name Is Hate) chimes in with his anti-Semitic interpretation of the app, which Dorsey then clumsily attempts to further elaborate.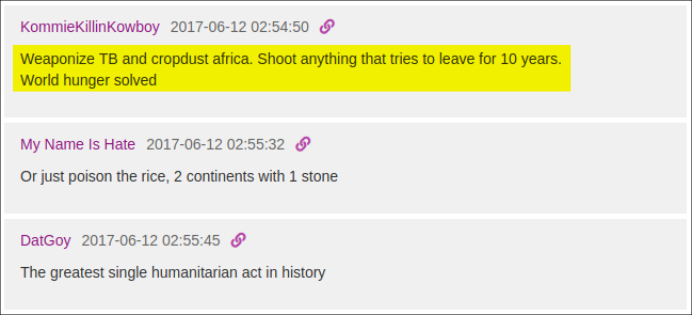 In one of his infrequent contributions to the Cascadia Coffee Company Discord chat, Dorsey blithely fantasizes about using a biological weapon to murder everyone in Africa.


Michael Dorsey's unhinged racism on display in the CCC logs.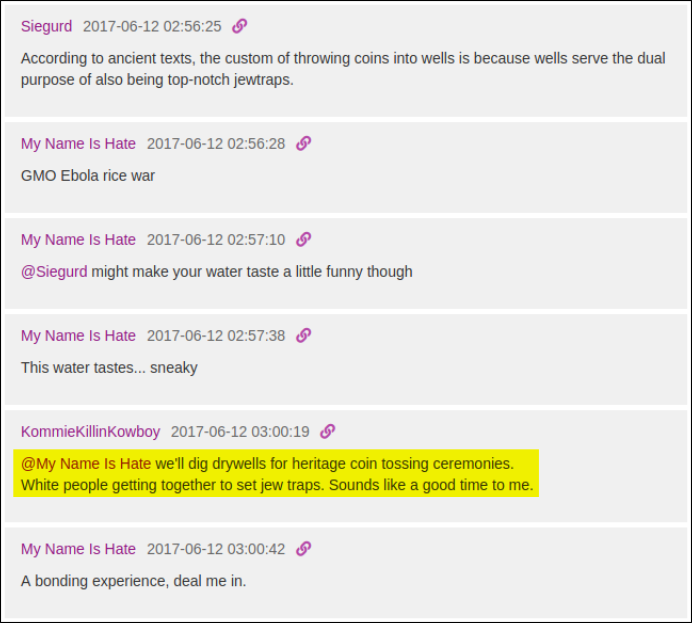 More anti-Semitism on display among the neo-Nazis from the CCC discord server. Participating are Matthew Stafford (aka My Name Is Hate), Michael Dorsey (aka KommieKillinKowboy), and a young Seattle-based neo-Nazi using the name "Siegurd" in the logs.
Daily Stormer Posts
As well as participating in the CCC logs and at real world fascist events, Dorsey has been a fairly prolific poster on the Daily Stormer's BBS boards.


Dorsey emphasizes the importance of The Daily Stormer as a social hub.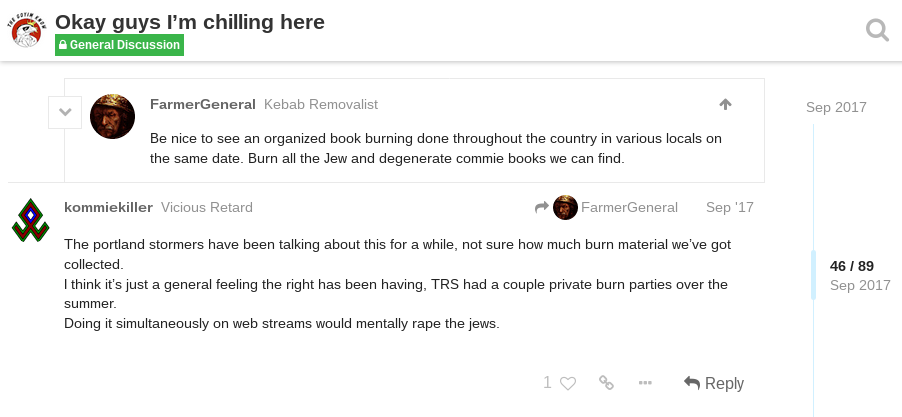 Dorsey discusses the logistics and merits of book burnings organized by fascists.


Another example of Michael Dorsey's bitter and cruel anti-semitism.


The Shuttening is a term popularized on The Daily Stormer to describe the alleged social and political disenfranchisement of the alt-right. The main evidence of this conspiracy is a handful of far-right personalities being banned from social media platforms and the overall decline of their movement post Charlottesville. Dorsey is also comparing the mood of the Daily Stormer bulletin board to a nuclear holocaust.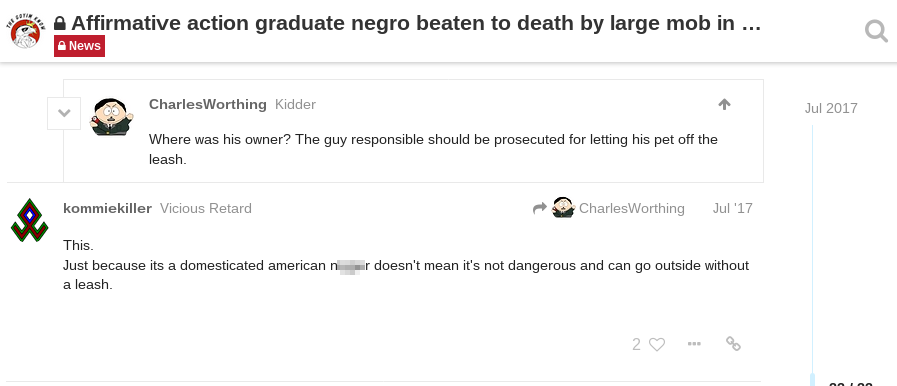 Dorsey's post combines one of white supremacies oldest and most vicious tropes (equating black people with animals) with the language of a recent racist meme in which pitbulls in particular are used as a metonym for black people, especially young black men.


Dorsey fantasizes about mutilating women's bodies. It's worth noting that Michael Dorsey and his ex-wife petitioned for the dissolution of their marriage in mid October of 2018.


The far-right's current mania for throwing around baseless, often lurid accusations of pedophilia has deep roots in the historical anti-semitism Michael Dorsey draws from in this post.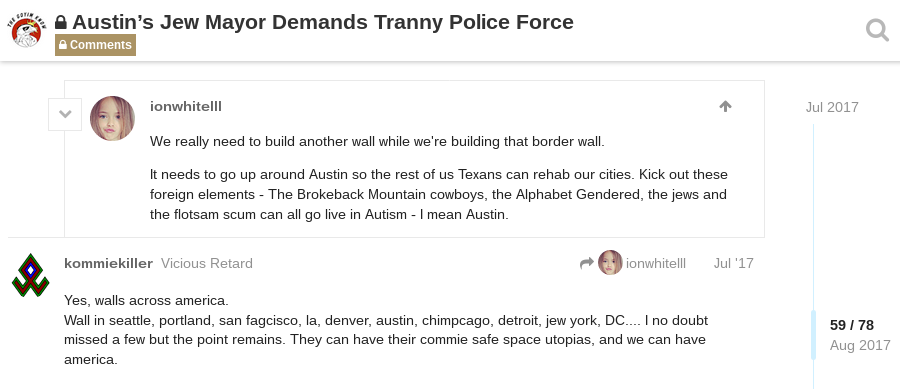 Dorsey imagines a regime of segregation enforced by a massive network of border walls would allow him and his fellow neo-Nazis to live free from the disturbance of encountering anyone different from them.
As with the rest of the PDX Stormers, there are a number of racist events and actions in which Dorsey was likely to have participated, but we will now elaborate on a few of the confirmed instances of his participation in regional neo-Nazi organizing.
March 12, 2017
Dorsey was present at the Lucky Lab in Portland during an altercation wherein a group of neo-Nazis from the CCC discord server harassed tavern workers and caused a scene after they were asked to leave. Also present were Jimmy Marr, David Woods, Matthew Blais, Bogdan Gerasimyuk, and several others.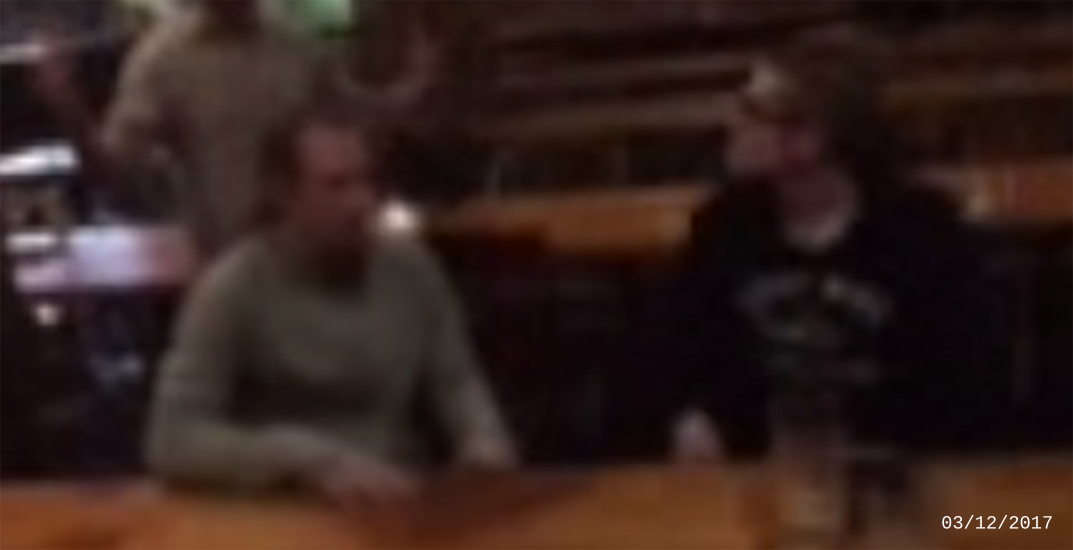 Extremely low-quality footage shows Michael Dorsey (left) seated next to fellow PDX Stormer neo-Nazi Matthew Blais (right) at the Lucky Lab.
June 4, 2017
Dorsey was one of a number of Daily Stormer affiliates who attended Joey Gibson's June 4, 2017 hate rally in downtown Portland mere days after neo-Nazi Patriot Prayer follower Jeremy Christian murdered two people aboard the MAX train.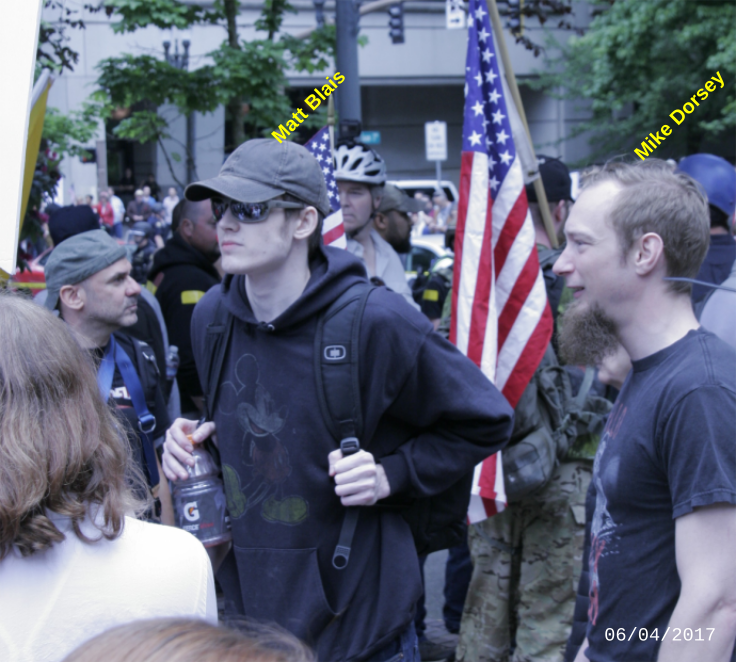 Dorsey is seen with neo-Nazi Matthew Blais at Joey Gibson's June 4, 2017 hate rally in Portland.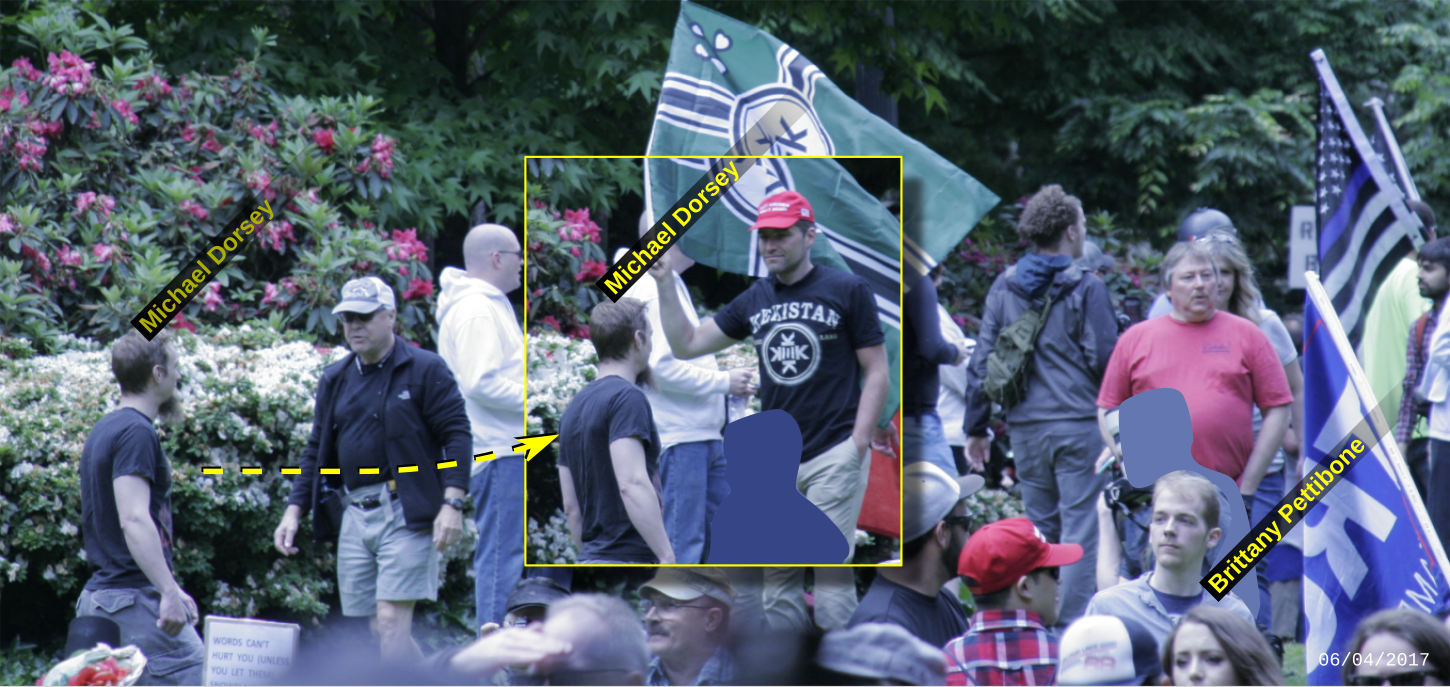 Neo-Nazi Mike Dorsey proselytizes among other participants at Joey Gibson's June 4, 2017 hate rally. Also visible is prominent anti-Semitic conspiracy theorist and white nationalist Brittany Pettibone.
August 6, 2017
A large number of fascists attended Joey Gibson's violent waterfront rally in downtown Portland on August 6, 2017. Michael Dorsey and other neo-Nazis from the PDX Stormers assaulted Portland activists with the assistance of the Proud Boys hate group, white nationalist hate preacher Allen Pucket and his followers, as well as white nationalists from Identity Europa and Patriot Prayer.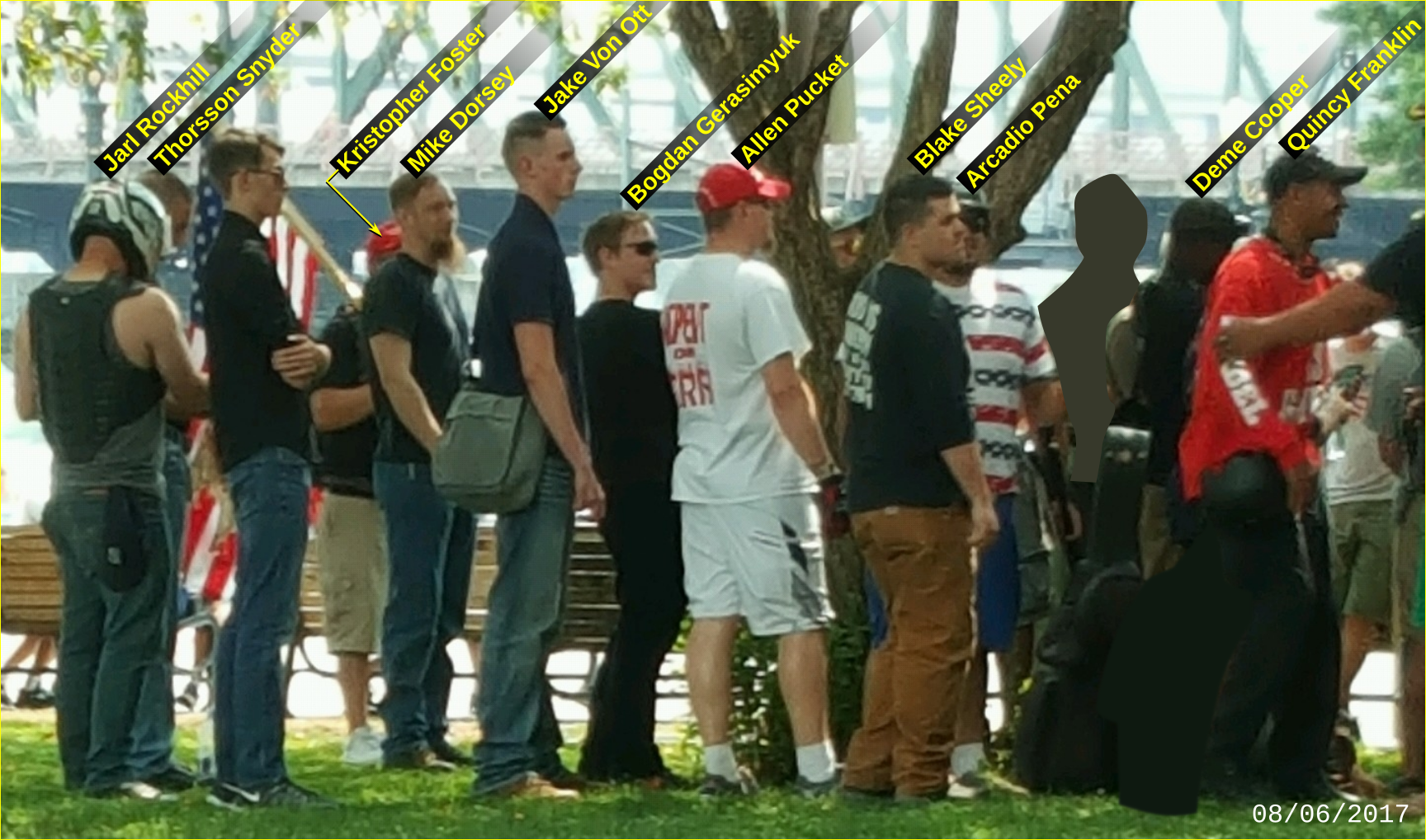 Neo-Nazi Mike Dorsey is seen with fellow PDX Stormers Jarl Rockhill, and Bogdan Gerasimyuk; racist Patriot Prayer follower Kristopher Foster; hate preachers Allen Pucket, Blake Sheely, Arcadio Pena, and Quincy Franklin; Identity Europa neo-Nazi Jake Von Ott; neo-Nazi Thorsson Snyder; and pedophile Patriot Prayer videographer Deme Cooper.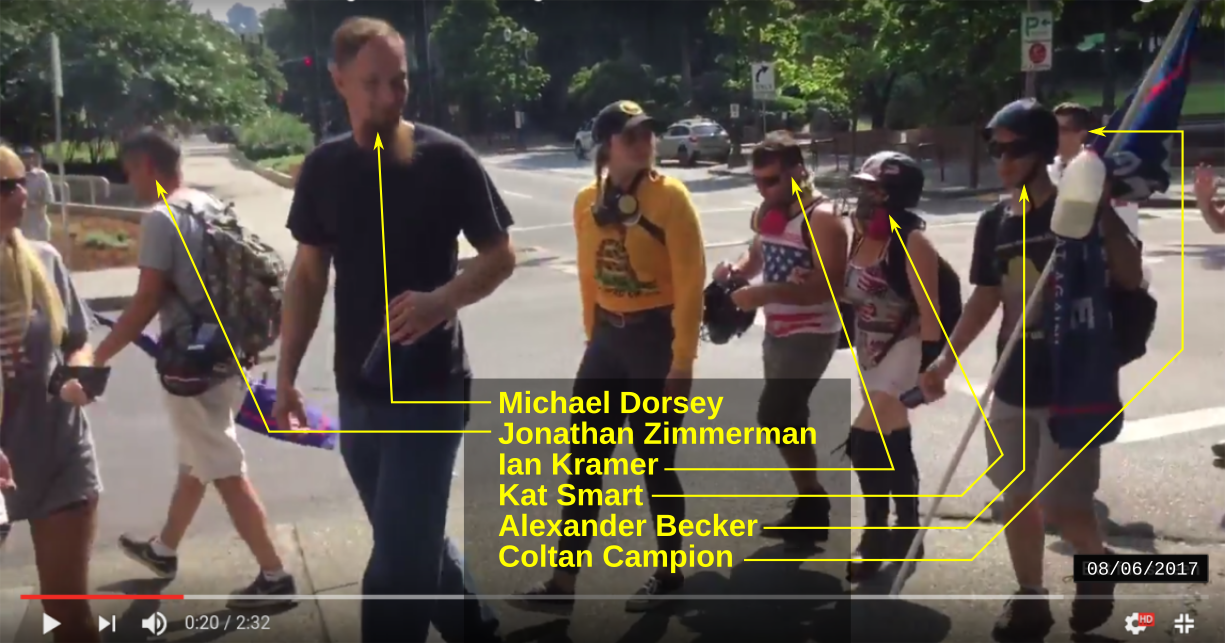 Mike Dorsey is seen marching with fellow PDX Stormers neo-Nazi Alexander Becker as well as with Proud Boy Coltan Campion, Patriot Prayer followers Jonathan Zimmerman, and Kat Smart, and with violent Patriot Prayer follower Ian Kramer, who has assaulted both activists and journalists under the cover of Joey Gibson's events.
August 12, 2017
Michael Dorsey attended the Unite The Right rally in Charlottesville, Virginia along with hundreds of neo-Nazis from around the country. Neo-Nazi James Fields murdered Heather Heyer and injured nineteen others by ramming his car into a crowd of activists at high speed, and was recently convicted of first degree murder. Other fascists and far-right activists from the Pacific Northwest also attended this neo-Nazi rally, such as Murphy Harkins, Francis Marion, and James Allsup.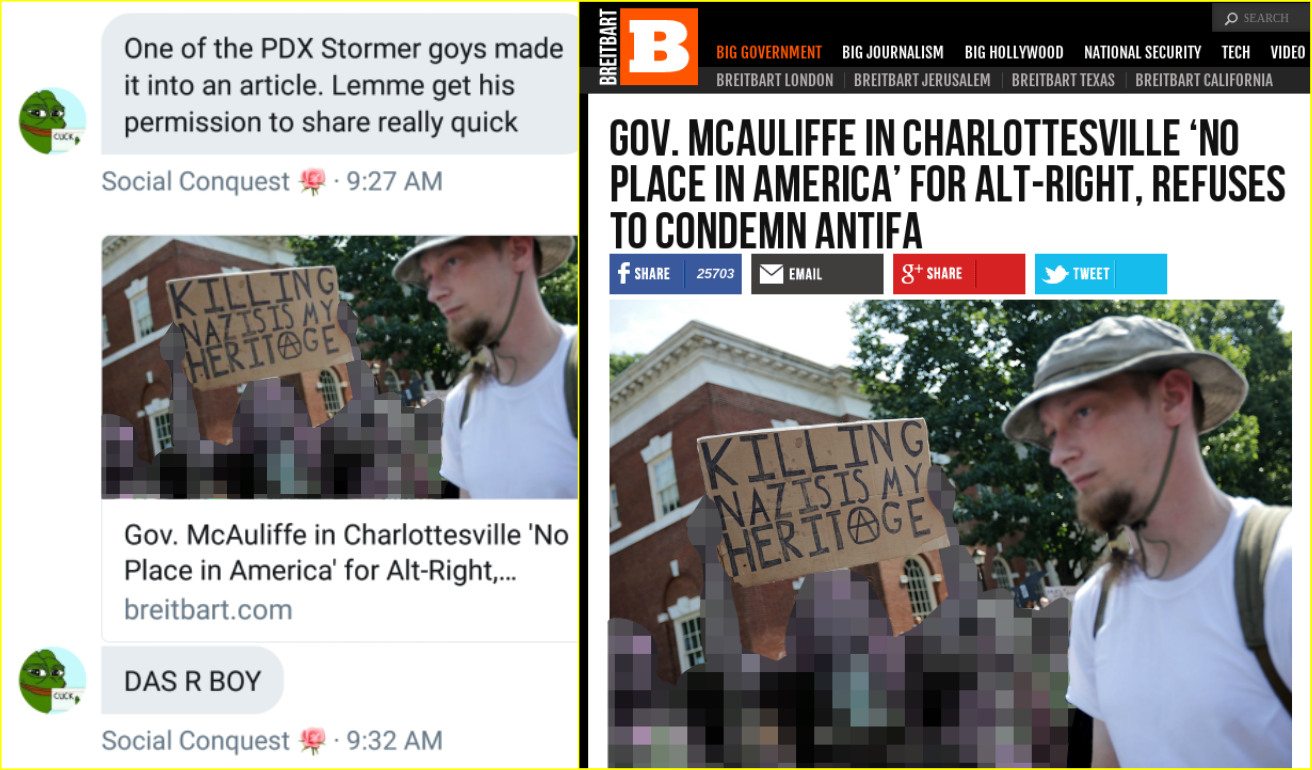 (Left) Fellow PDX Stormers member Matthew Blais brags about a Nazi-sympathizing Breitbart article (right) about the deadly Charlottesville rally which features Michael Dorsey prominently in its header photo.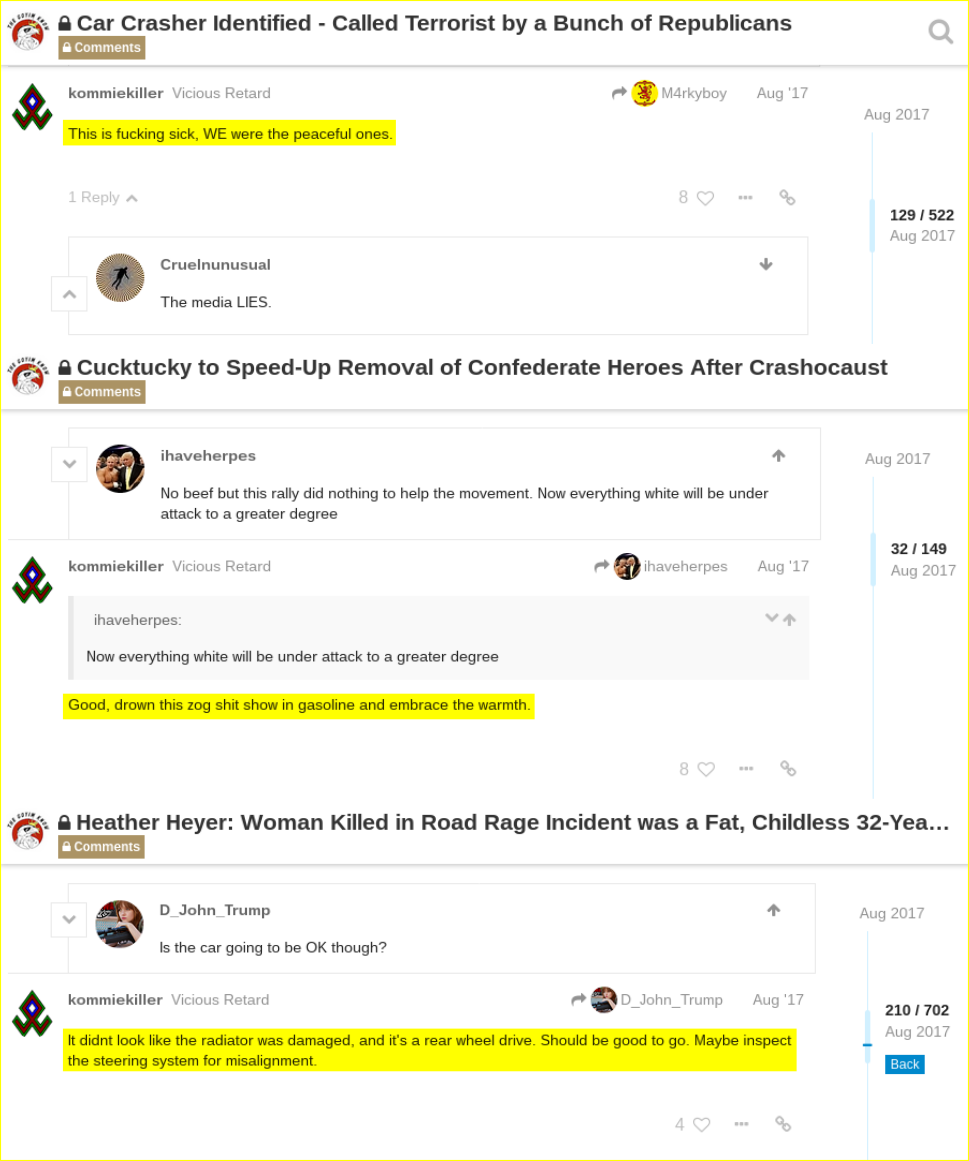 A few of Michael Dorsey's posts on the Daily Stormer website from the day after James Fields murdered Heather Heyer at the Unite the Right rally in Charlottesville, VA. Dorsey himself also participated in the violent neo-Nazi rally.
October 15, 2017
For some reason, Patriot Prayer founder and rally-theme-master Joey Gibson decided in October of 2017, that a "Support The American Flag" rally was needed at the Oregon State Capitol in Salem. The nominally-patriotic rally was crawling with neo-Nazis from the PDX Stormers including Michael Dorsey, Jarl Rockhill, Alexander Becker, and two others we are currently referring to as "Prep Stormer" and "Might is Right". Another participant in this event was young hammerskin-wannabe Noah Gunn.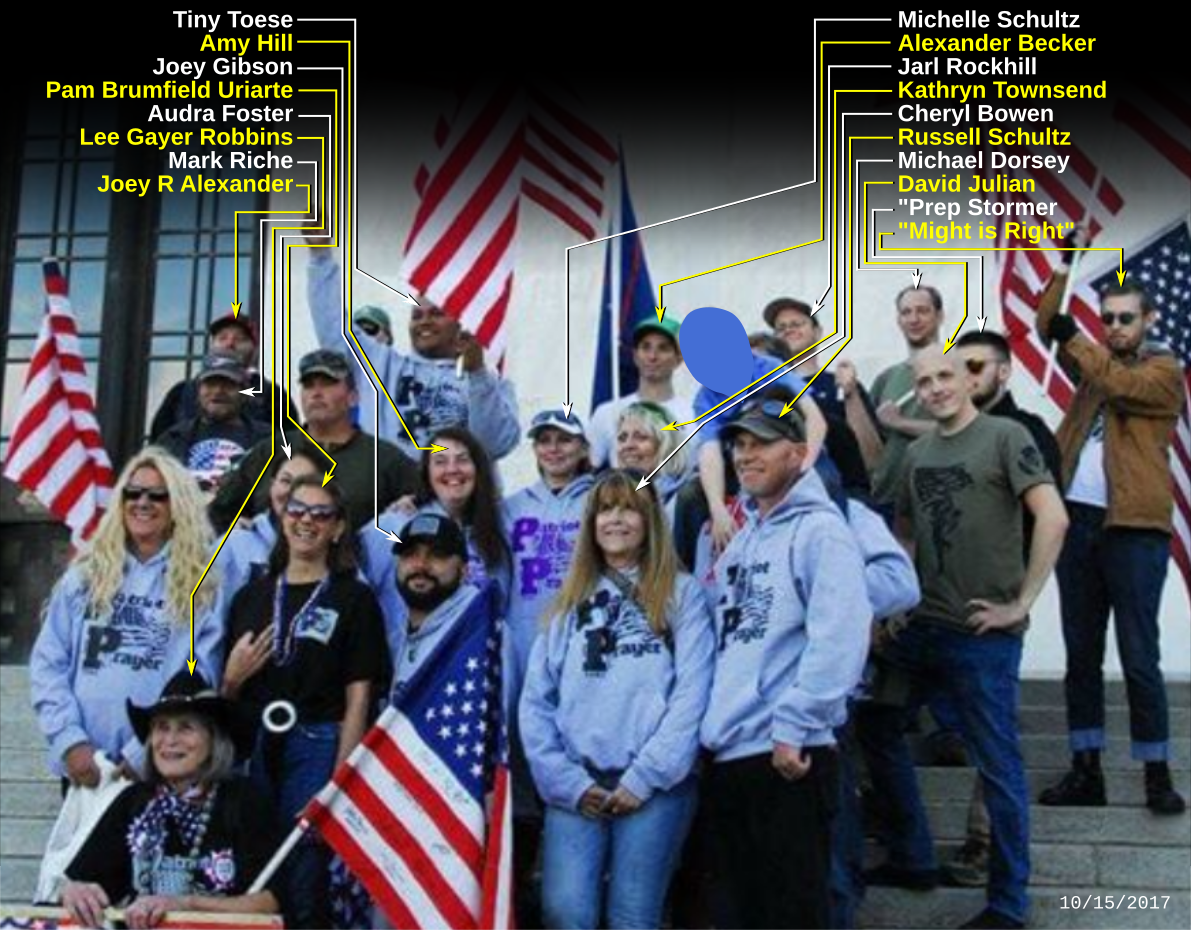 Patriot Prayer posed for a formal group photo with neo-Nazis from the PDX Stormers. Present are Tiny Toese, Amy Hill, Patriot Prayer founder Joey Gibson, Pam Brumfield Uriarte (aka "based grandma"), Audra Foster, Lee Gayer Robbins, Mark Riche, Joey Alexander, Michelle Schultz, neo-Nazi Alexander Becker, neo-Nazi pedophile Jarl Rockhill, Kathryn Townsend, violent misogynist Proud Boy Russell Schultz, neo-Nazi Michael Dorsey, Proud Boy David Julian, and two neo-Nazis we are calling "Prep Stormer" and "Might is Right".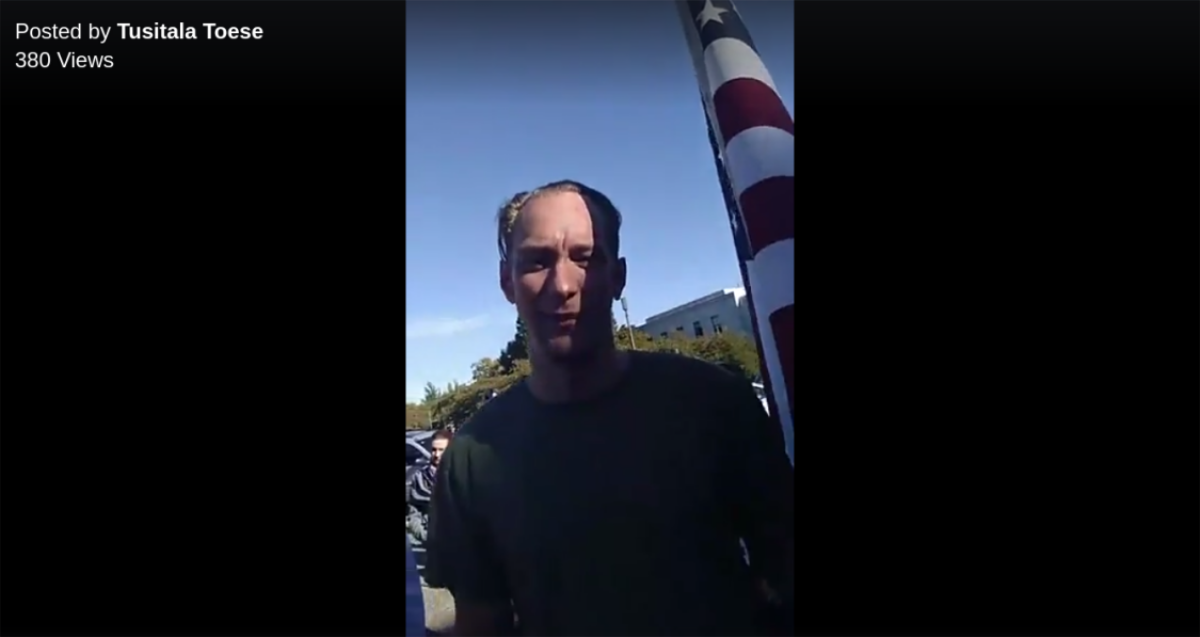 Patriot Prayer member Tiny Toese was seen being particularly welcoming to the PDX Stormers members, even going so far as to ignore warnings that Jarl Rockhill was a known pedophile and Nazi. Here he is seen offering to interview Michael Dorsey on camera.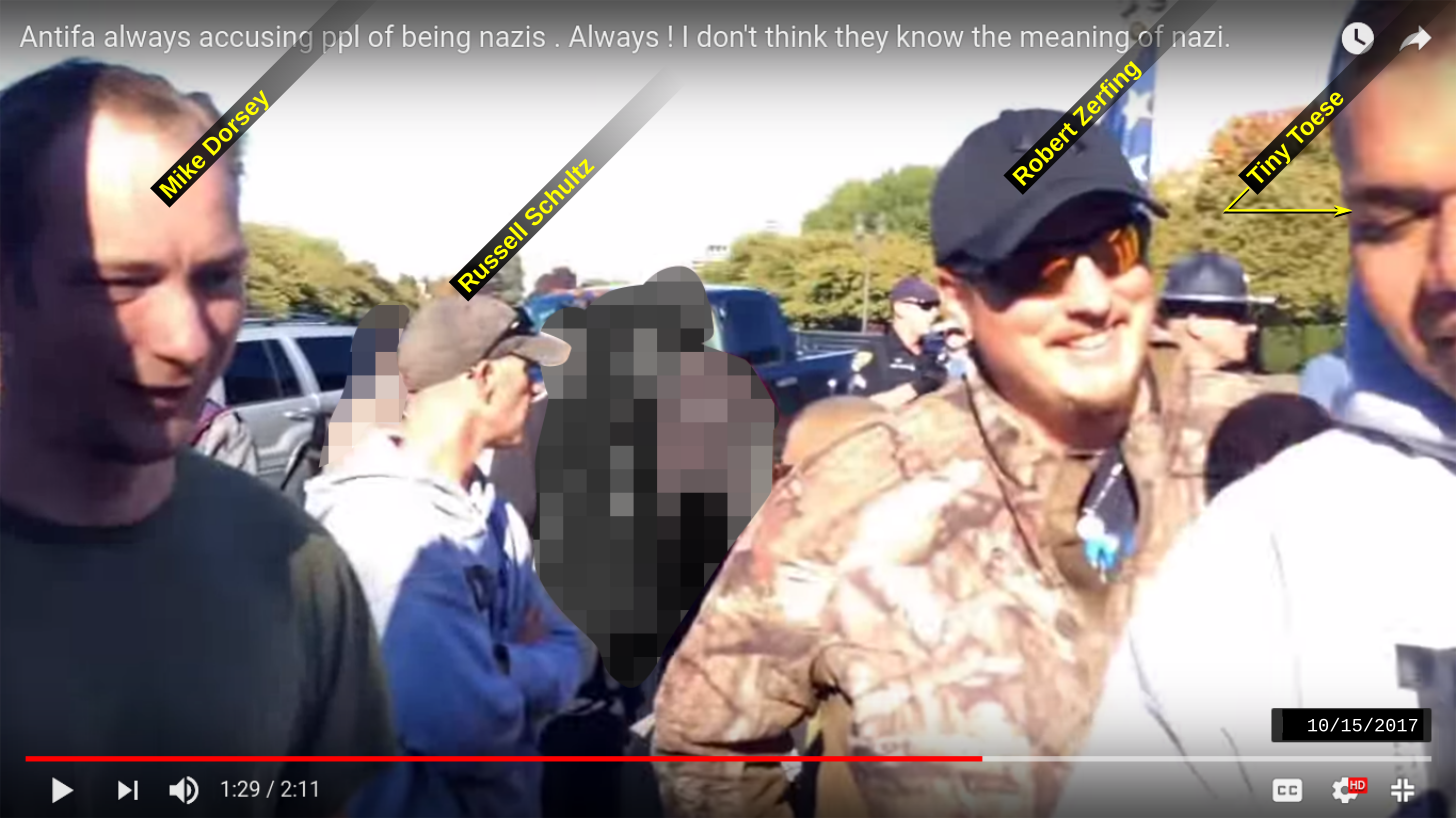 In an ironically titled YouTube video, neo-Nazi Mike Dorsey is filmed by Patriot Prayer videographer Justin Sheets hanging out with Patriot Prayer followers Russell Schultz, Robert Zerfing, and Tiny Toese.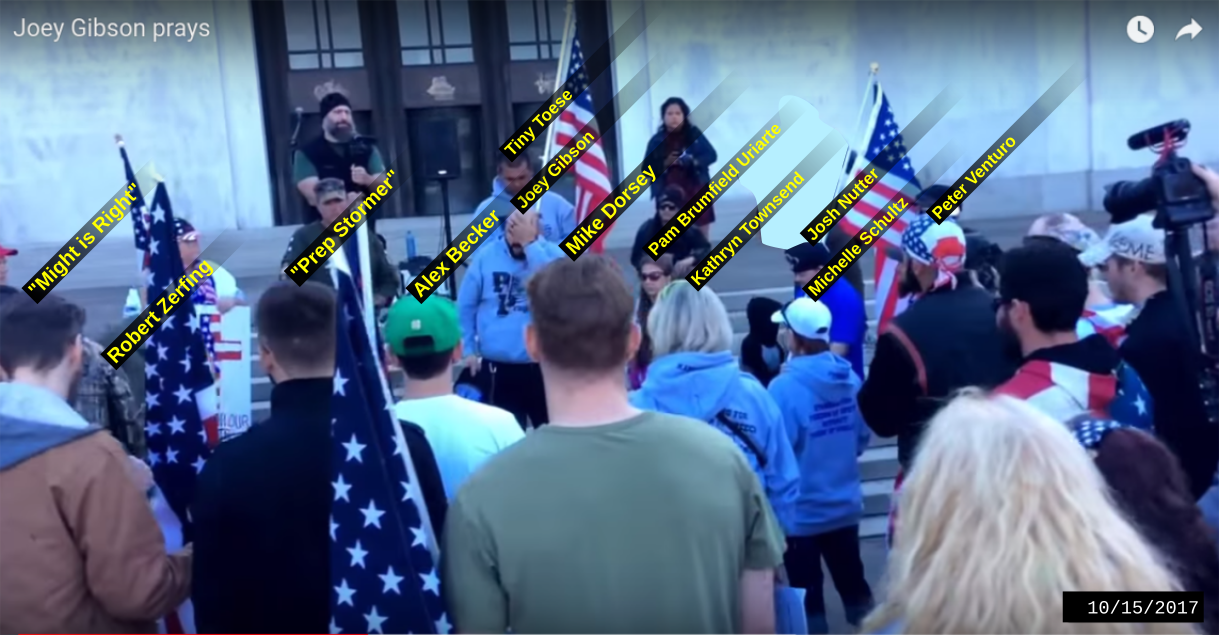 Joey Gibson welcomes neo-Nazis in prayer, offering them no criticism whatsoever of their genocidal ideology. Mike Dorsey is seen in the foreground along with fellow PDX Stormers neo-Nazis Alexander Becker, "Might is Right", and "Prep Stormer". Also visible are Joey Gibson, Tiny Toese, Pam Brumfield-Uriarte, Kathryn Townsend, Josh Nutter, Michelle Schultz, and Pete Venturo.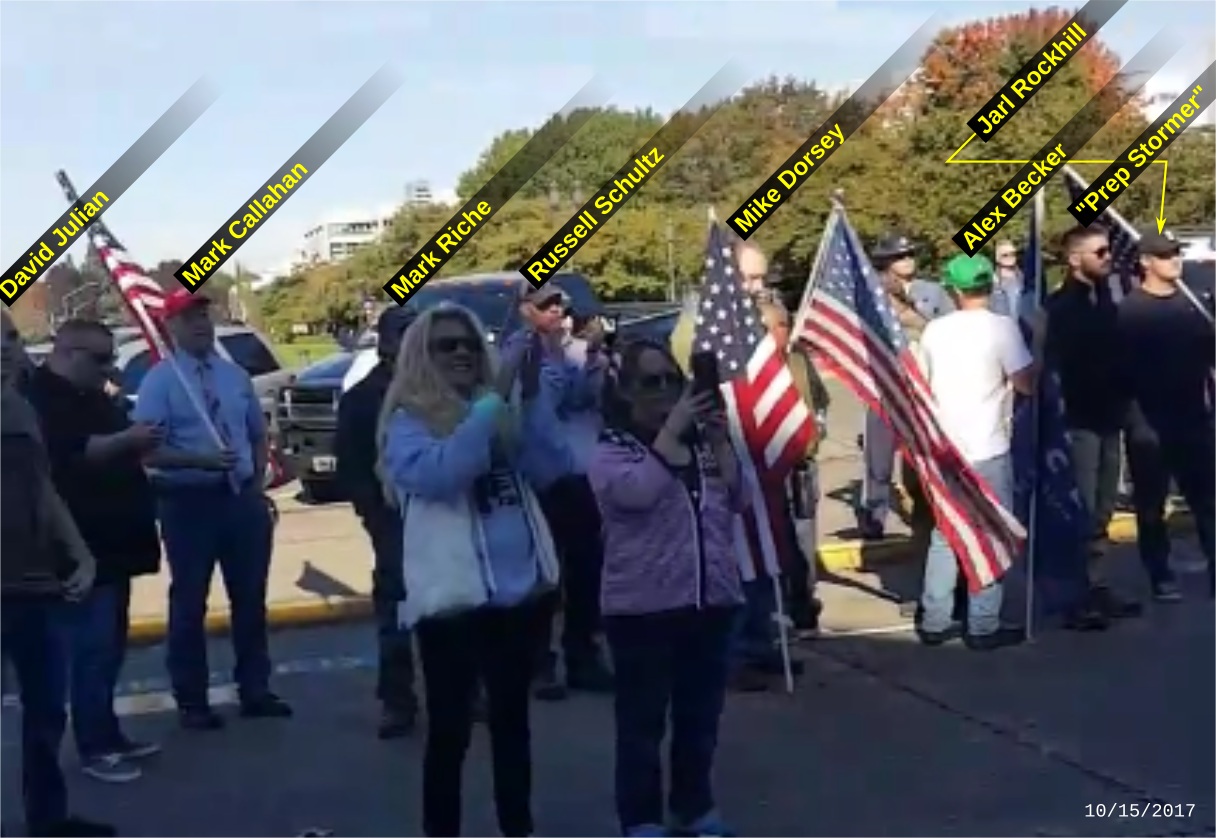 PDX Stormers neo-Nazis Michael Dorsey, Alexander Becker, Jarl Rockhill, and "Prep Stormer" hang out with fellow Patriot Prayer followers such as Proud Boys David Julian and Russell Schultz, as well as with Oregon Republican senate candidate Mark Callahan, and violent conspiracist Mark Riche.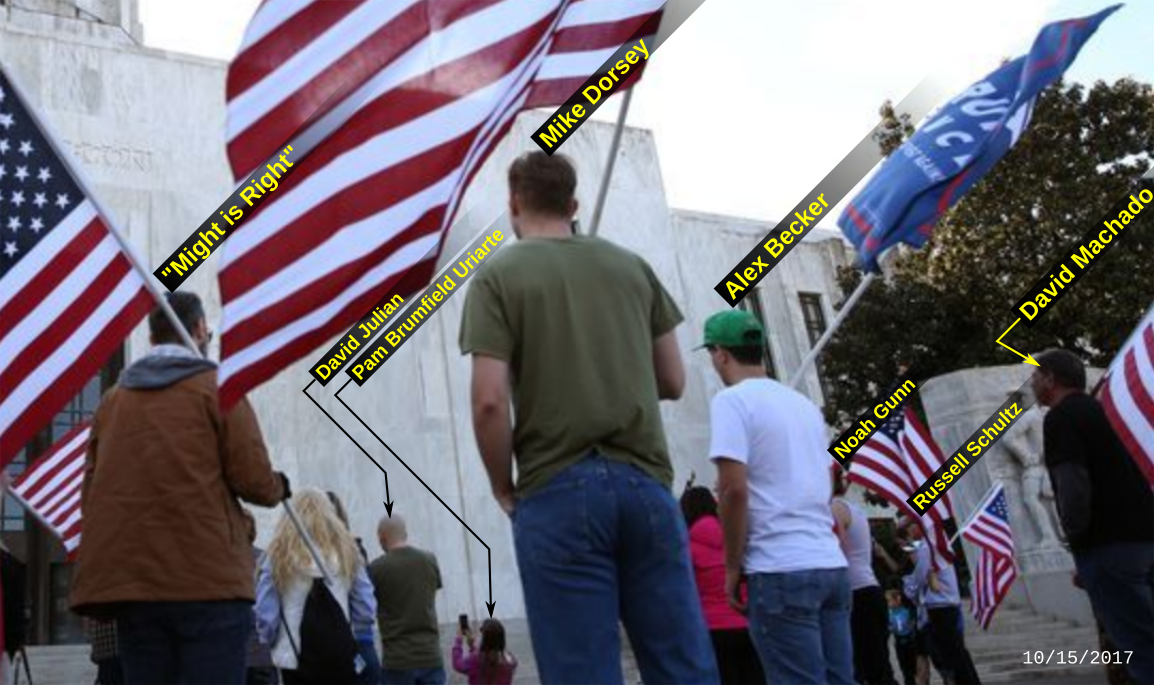 PDX Stormers neo-Nazis "Might is Right", Michael Dorsey, and Alexander Becker attend a Patriot Prayer rally with Proud Boys David Julian and Russell Schultz, violent Patriot Prayer disciple David Machado, young hammerskin-wannabe Noah Gunn, Joey Gibson sycophant Pam Brumfield-Uriarte, and others.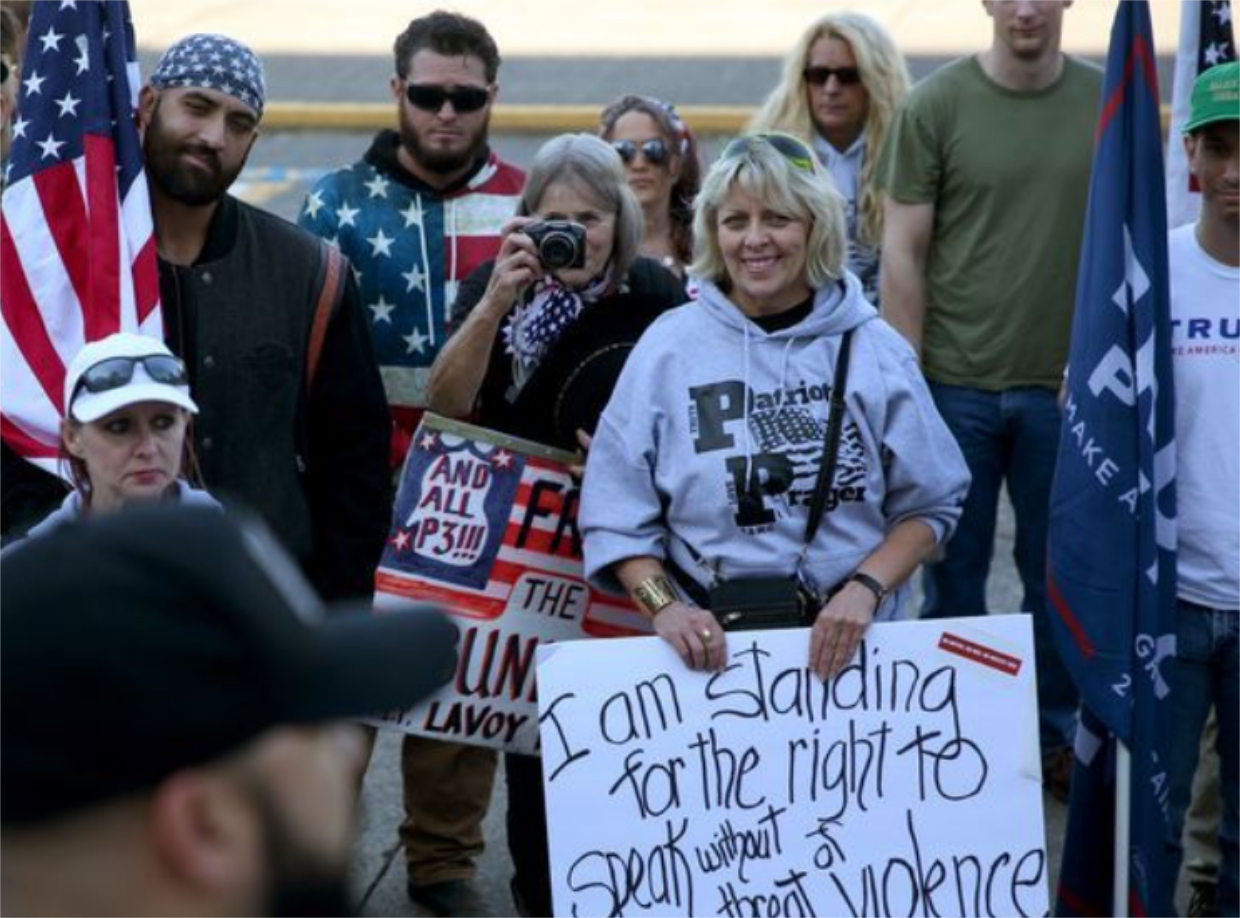 Michael Dorsey fellow PDX Stormers neo-Nazi Alexander Becker stand with Patriot Prayer followers such as Kathryn Townsend, Michelle Schultz, Lee Gayer Robbins, and Peter Venturo as they listen to Joey Gibson's bloviation. Kathryn Townsend's sign indicates her refusal to acknowledge the well-established fact that Nazi proselytization is imbued with, organizes for, and directly precedes racist violence.
CLEAR PHOTOS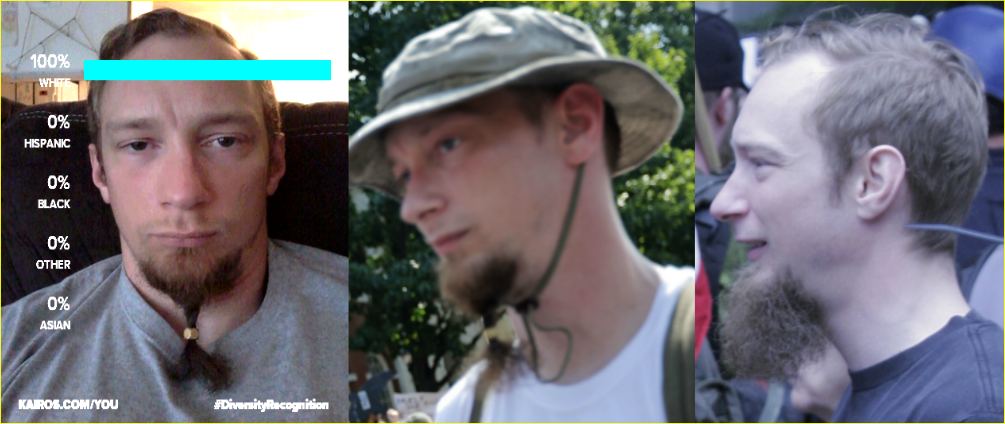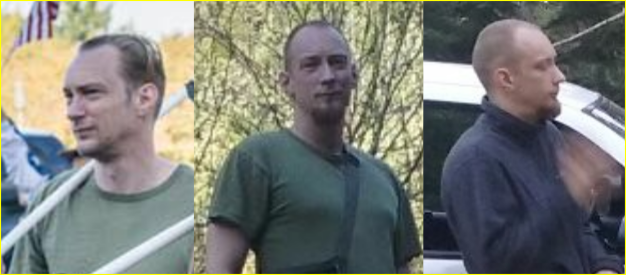 CURRENT DETAILS
NAME: Michael Garrett Dorsey
AKA: KommieKillinKowboy; KommieKiller
DOB: 04/17/1984
ADDRESS: 1930 Se 6th St Apt 117 Gresham, OR 97080
EMPLOYMENT: Independent Welding Supply, 15648 SE 114th Ave #107 Clackamas OR; Phone # 503-723-5140
VEHICLE: maroon Ford sedan – OR 326JWL
VEHICLE: white Dodge truck – OR 848KSL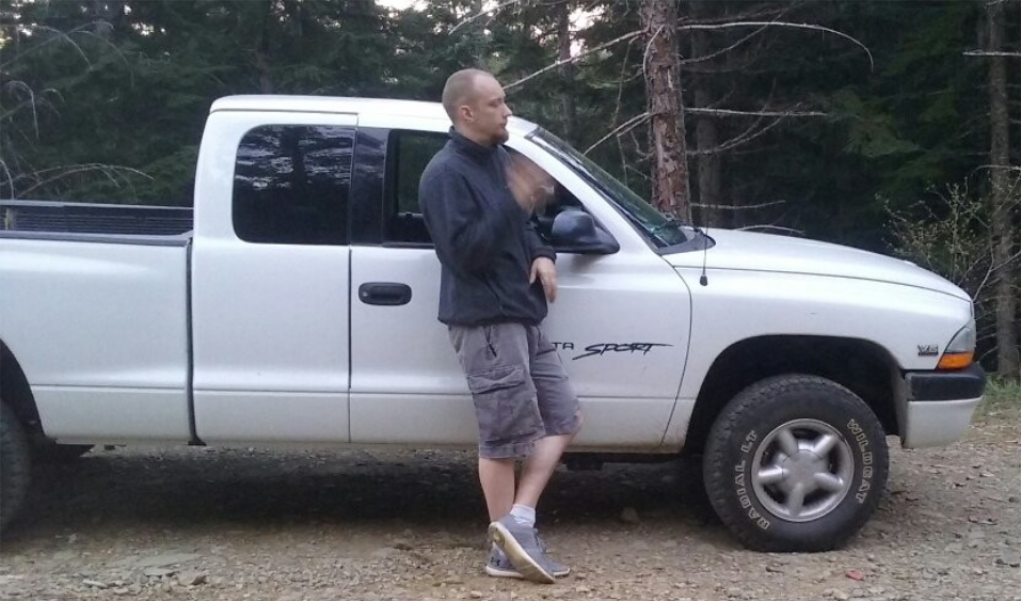 Michael Dorsey poses with his white Dodge truck.
Rose City Antifa is dedicated to the pursuit of a community free of anti-Semitic, racist, and homophobic propaganda, and to exposing neo-Nazis before their ideology manifests itself in action. In this series, we have provided information to publicly identify PDX Stormers members and CCC participants Michael Dorsey, Matthew Blais, and Bogdan Gerasimyuk. More info is available on this site or through the hashtag #stormerbreaker, and join us in exposing fascist organizing in the Pacific Northwest.
If you have information on the PDX Stormers or any racist or fascist organizing in your area, contact Rose City Antifa at [email protected].